Cellular Routers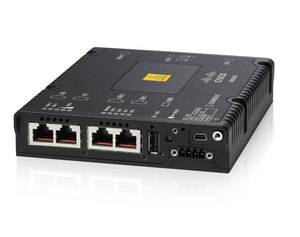 Cellular routers allow IP connections to the internet using the cellular network. This means technologies such as GPRS, 3G, 4G and soon 5G can be used to provide wireless connections to equipment in remote sites or on moving vehicles. It is also an excellent back-up for unreliable DSL lines.
Amplicon supplies LTE 4G/3G/2G/GPS cellular routers providing complete flexibility in price, coverage, data rate and complexity of integration.
Our cellular routers have advanced networking features and have a robust housing making them suitable for outdoor or mobile applications.
For more information about Amplicon Network Consultancy Services please contact us on 01273 570 220.
Amplicon, the authorised partner for Cisco networking products, are offering a one year licence for Cisco IoT Operations Dashboard at no extra cost with a purchase of any Cisco IR1101 Rugged Series Router. Full offer details here.
Product Range