Embedded Computers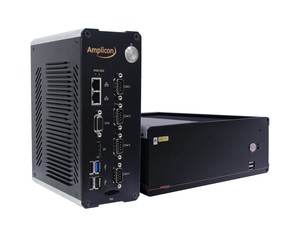 The Amplicon embedded computers are fanless, rugged and compact making them ideal for a variety of space-critical applications. Designed and manufactured by Amplicon with selected high quality industrial components, the Impact-E/T/P and D embedded PC's provide a cost-effective solution for use in harsh environments and critical 24/7 operations.
All Amplicon Embedded systems support solid state drives enabling them to withstand a high degree of shock and vibration.
As with all Amplicon Industrial PC's, the Impact-E/T/P and D series can be fully OEM branded; from your company colours and logo on the metalwork, to a fully branded operating system designed to meet your specific requirements.
Learn more about the Amplicon Industrial Embedded PC range.
Amplicon has launched their new innovative Impact-P 100D series; an ultra-small IoT edge ready industrial computer featuring enhanced connectivity and high performance Intel Atom processors. Learn more about the new Impact-P 100D series.
Product Range