Rackmount LCD console drawers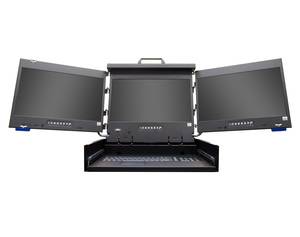 The Amplicon KwikDraw-A rackmount consoles series are available in single, 8, 12 and 16 port options with varying screen sizes and resolutions.
Offering a full 106-key keyboard and touchpad neatly combined into 1U or 2U of space for any standard rack with either UK or international language keyboards . The KwikDraw-A series is the obvious choice for any critical application where quality cannot be compromised. The range is available with DP++, DVI, VGA, USB or PS/2 options.
Learn more about the Amplicon Rackmount console drawers range.
Product Range