Measurement and Control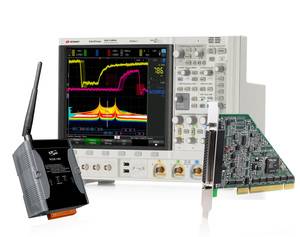 Our Measurement and Control range combines hardware and software from market leading brands such as NI (National Instruments), Keysight, GW Instek and ICP DAS. We are the official NI representative in the UK, supplying the complete range of NI PXI and DAQ instrumentations from NI as well as NI LabVIEW, Test Workflow and many more market leading sofware packages.
In this section you will find products for every type of application, from high-end Test & Measurement equipment to a simple digital panel meter. We have products that can monitor, display and log low and high speed signals. We also offer a broad range of programmable automation controllers (PACs), PXI Systems, remote I/O, HMI's, display instrumentation and signal conditioning that can be deployed in a variety of industries. All support a broad range of automation and control protocols.
Visit the NI National Instruments section to access the full range of Hardware and Software solutions.