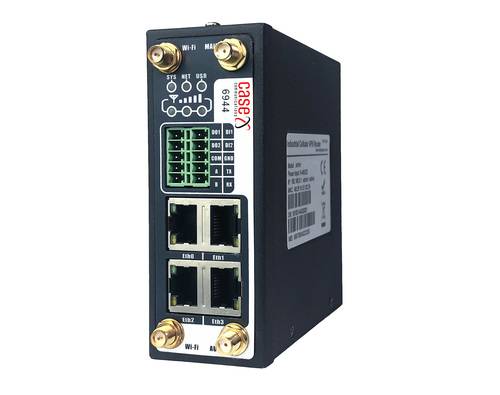 Case Communications Case Comms 6944 series
Case Comms 6944 4G dual SIM, 4x FE copper ports, Wi-Fi, 2x2 MIMO, 2 Digital I/O, VPN, RS-232/485
Key Features
Dual SIM 4G/LTE Cellular connectivity
2 x 2 MIMO 300Mbps Meshed Wireless
IEEE 802.11b/g/n Access Point (AP)
RS232 / RS485 Serial Ports
Tunnelling - GRE, Open VPN and IP Sec
Static and Dynamic Routing
2 Digital Inputs, 2 Digital Outputs
Model with GPS available
The Case Comms 6944 Industrial Cellular Router supports LTE connectivity with dual sim cards and data rates up to 300Mbps. It can operate in a temperature range of -40C to +75C. These features allow the 6944 to operate reliably in the most difficult of locations.
These come with 4x FE ports, which can either be used as all LAN Ports or it can use 3 Ethernet ports as LAN Ports and 1 Ethernet Port as an 'Ethernet WAN' Port, providing redundancy.
The 6944 router is equipped with 2x2 MIMO dual antenna providing 300Mbps using well known standards IEEE 802.11b/g/n Wi-Fi. This allows the 6944 to act as an Access Point or to connect to other 6944's via the Wi-Fi link. When connected to other 6944 routers the 6944 can use the Wi-Fi as an alternate route. This makes it possible to create a meshed network for high availability network requirements.
Brand

Case Communications

Type of Ethernet Ports

Copper RJ45

Max Operating Temperature

75 °C

Min Operating Temperature

-40 °C