Future proof performance with TestStand, LabVIEW and PXI
LabVIEW and TestStand management software along with PXI modular instrumentation provides an integrated solution that can both simplify test development and reduce maintenance for long-term success.

Build, customise and deploy Test Systems with TestStand
Develop Test Systems Faster

Rapidly develop and execute test sequences using the TestStand Sequence Editor. TestStand allows you to re-use code written in the most popular languages

Simplify System Development

Customise and enhance the user experience by extending the out-of-the-box features using your language of choice - LabViIEW, Python, C#, C++ or Visual Basic .NET

Increase Test Throughput

Test products in parallel to optimise instrument use and test times with built-in auto-scheduling intelligence

Publish Test Results

Its built-in reporting functionality allows you to log critical results to several industry-standard report formats, such as ATML, XML, HTML and ASCII
TestStand is a test executive and rapid deployment framework that automates, accelerates, and standardises the overall test process across your fleet of testers. It supports the reuse of code from popular languages, simplifies complex tasks such as sweeping, looping, and synchronisation, enables parallel testing, and delivers robust troubleshooting and debugging tools.
The benefits of TestStand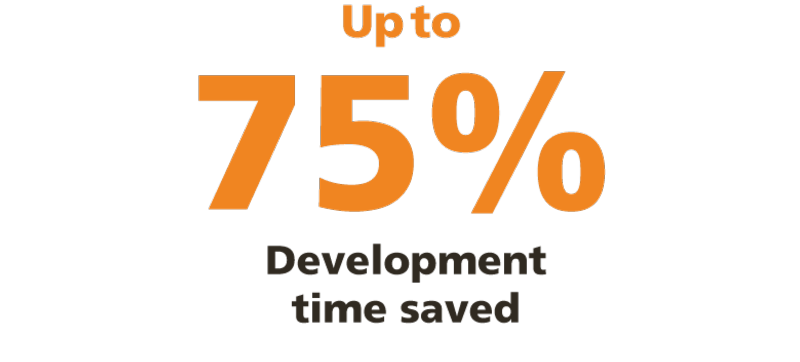 Develop Automated Test & Measurement systems with LabVIEW
Rapidly Connect To & Configure Instrumentation

Interface with any stand-alone modular or traditional box instrument with access to thousands of instrument drivers, all using a consistent programming paradigm

Minimise Test Sequence Development Time

Use hundreds of instrument specific example code modules and measurement libraries for common test scenarios to let you focus on your unique test requirements

Quickly Reuse Existing Source Code, Scripts And Libraries

Integrate existing configuration, analysis, and DUT control libraries by importing graphical, ANSI C or textual maths source code, interoperability with Python scripts, and calling existing DLLs and .NET assemblies

Instantly Visualise Measurement Results

Create user interfaces with hundreds of test-specific drag-and-drop engineering controls that intuitively describe your system to engineers, technicians, or operators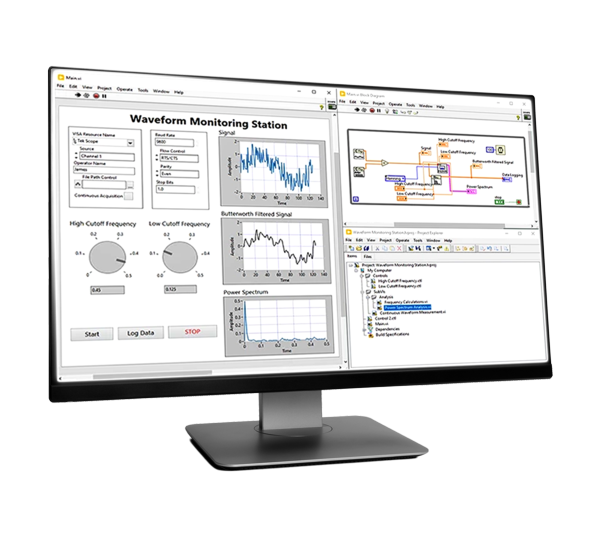 Learn more about LabVIEW
LabVIEW is engineering software for applications that require test, measurement, and control with rapid access to hardware and data insights. For the past 35 years, LabVIEW has been the tool of choice for developing automated test systems. LabVIEW is part of the Test Workflow bundle, which scales in features and capabilities to meet your application requirements. Consider the Test Workflow bundle for LabVIEW and more NI Software.
The benefits of LabVIEW
Save cost and increase value with Test Workflow
All you need in one package
Test Workflow is a bundle of select NI software featuring a collection of engineering-specific software tools for test professionals.
Test Workflow includes TestStand, LabVIEW and four other leading test software platforms at a fraction of the price compared to buying them separately.
Learn more about Test Workflow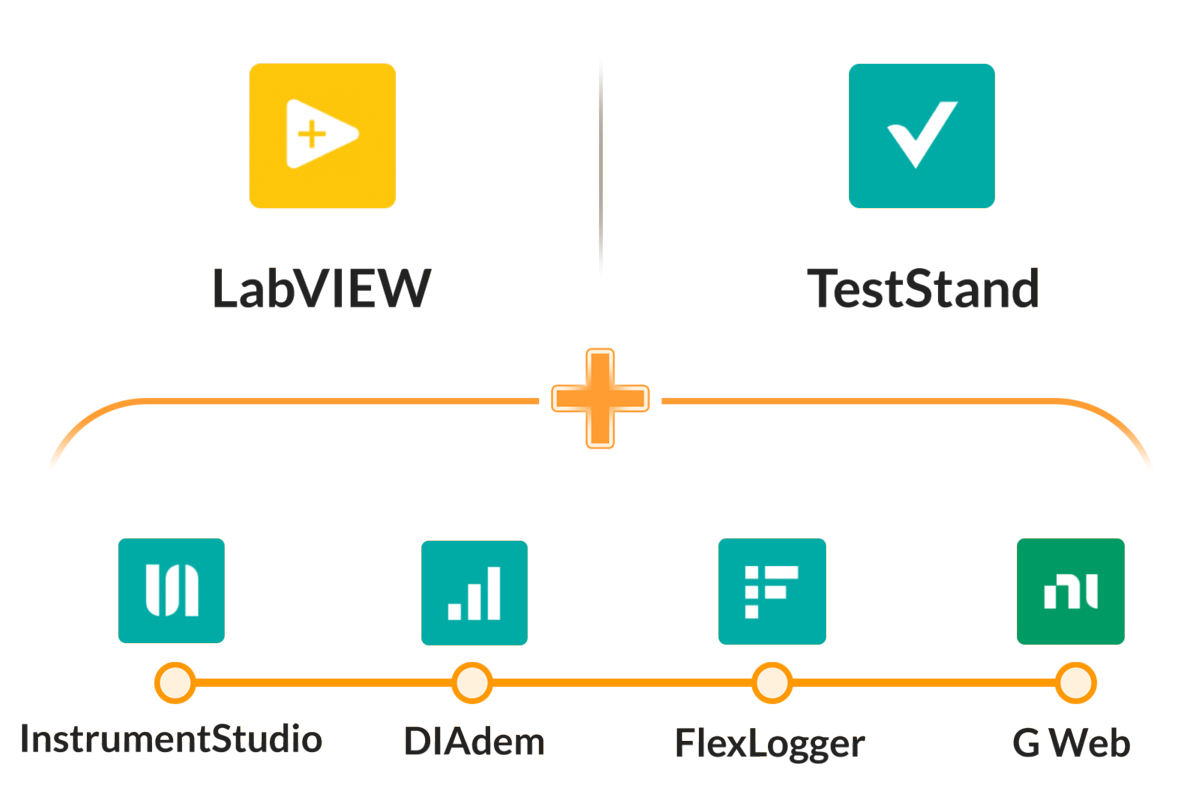 PXI,
high performance systems for validation and production testing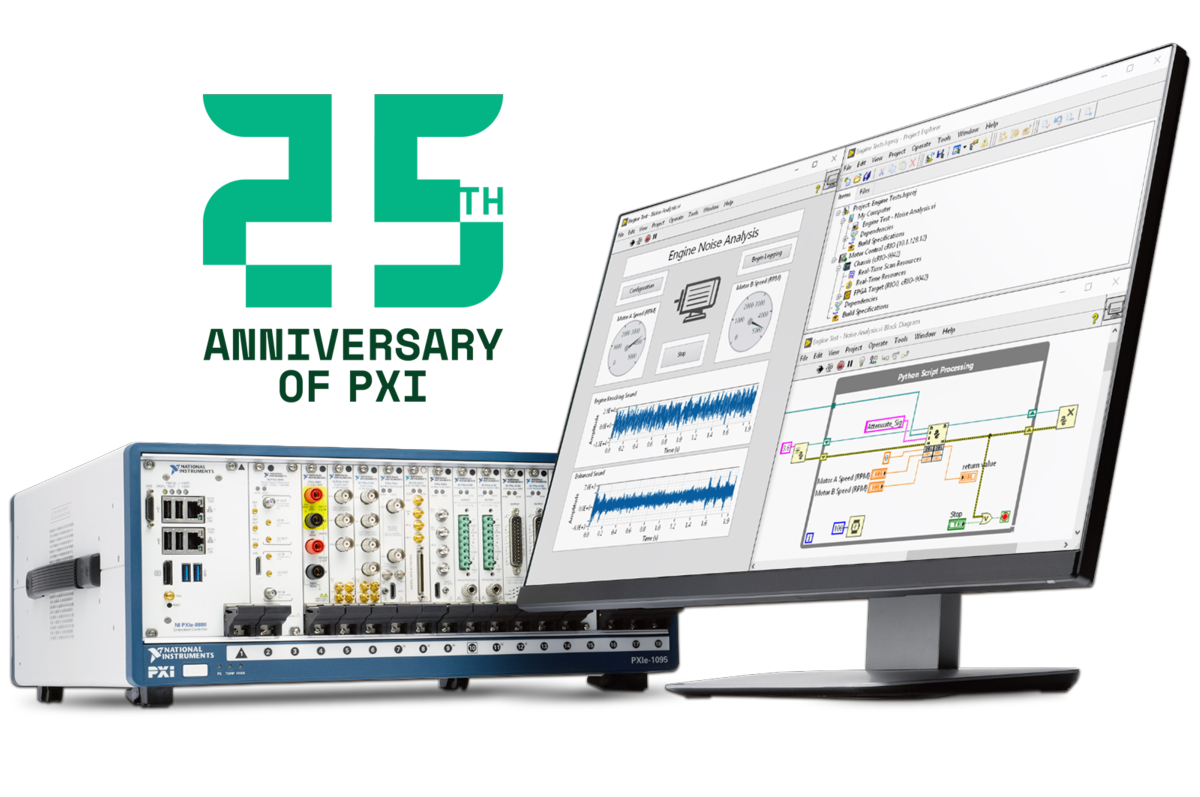 Learn more about PXI
Industry Standard

You're not locked in. PXI is an open standard with hardware available from more than 60 vendors.

High-Performance

Test faster with high-bandwidth connections between your measurements, the latest processing technology, and your test software.

Scalable

Manage change with PXI. Add measurements, more channels, new analysis routines, or upgrade to the latest processor without having to purchase a whole new instrument.
Why PXI for NI test software?
The power of NI PXI lies in its integration with NI software, offering you full compatibility, efficiency, flexibility, and feature performance.
Combining PXI, LabVIEW and TestStand, you can reduce your test development time and quickly automate your instruments using TestStand parallel test programmes. Test management software, along with PXI modular instruments, provides an integrated test solution that empowers you to build virtually any system faster and with more confidence for long-term success.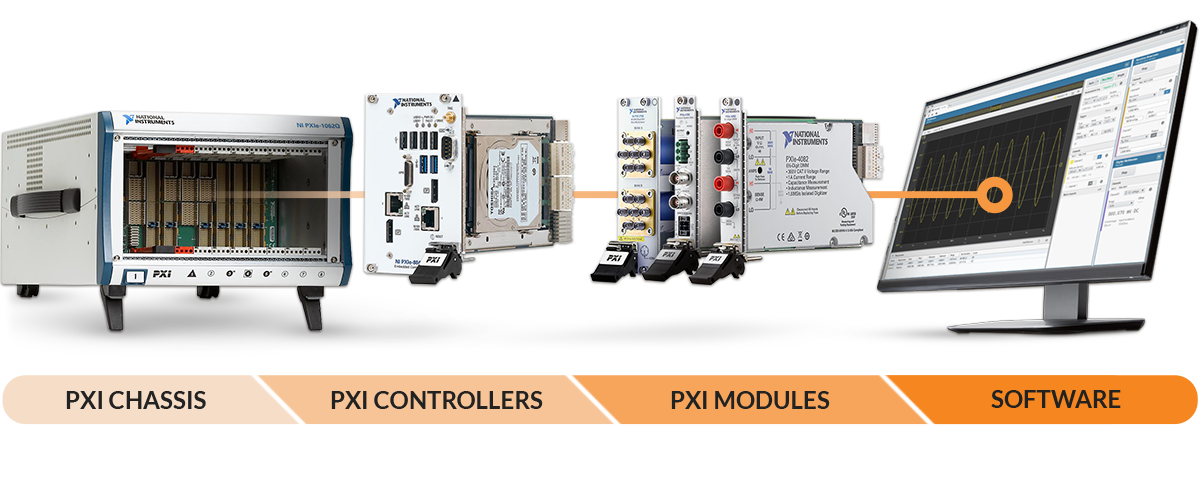 Explore NI's market leading Test Software and Hardware

Amplicon Automated Test solutions expertise
50 years of engineering excellence
The Amplicon Engineering Team has many years of experience in the design and build of turnkey automated test systems based on PXI, cPCI, VXI, LXI and industrial computing technology for a diverse and global marketplace.
Our extensive range of innovative measurement & control products and bespoke rackmount systems, coupled with our engineering expertise in the supply of complex test system requirements, means that we can deliver a bespoke solution to meet both complex technical specifications and tight budgetary constraints.