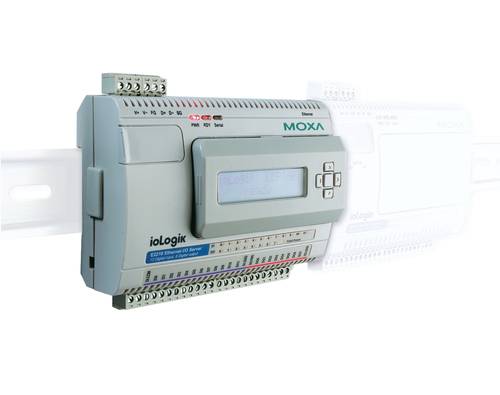 Moxa ioLogik E2210/E2212/E2214 series
Moxa Active Ethernet digital I/O server
Key Features
Digital inputs or event counter (no memory on E2210)
Digital outputs with pulse mode
Modbus/ TCP Ethernet interface
Unicode Active messaging with real-time clock
Peer-to-Peer I/O without controller
SNMP to I/O mapping
Easy local control with "Click & Go" logic
Drivers for Visual Basic, VB.Net, VC++, C# and Borland Builder
The ioLogik E2210/ E2212/ E2214 are designed to acquire and control signals from devices such as proximity switches, optical sensors and switches. They use a variety of protocols over Ethernet such as Modbus/ TCP to distribute data to up to 10 host computers.
Each digital input can be configured for DI or event counter mode, and each digital output or relay can be configured for DO or pulse output mode. An RS485 serial interface allows expansion via the ioLogik 4000 series.
An optional LCD display kit can be used to view and configure network settings such as IP address, change I/O settings and display input status.
Protocol

Modbus RTU/ASCii
Modbus TCP

I/O Direction

Inputs & Outputs
Datasheet

330.39 KB

Datasheet

154.60 KB

Datasheet

190.23 KB

Datasheet

1.68 MB