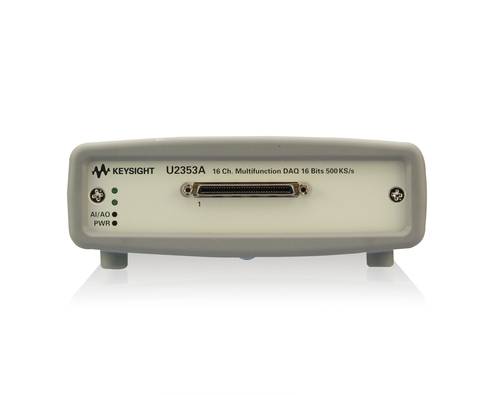 Keysight U2300A series
Keysight 16/64-CH, 12/16-Bit, Up to 3MS/s Multifunction Modular USB
Key Features
Plug-and-play, hot swappable with USB2.0 compatibility
Full speed simultaneous operation of input and output
16 or 64 high speed analog input channels
Analog and digital triggering
Supports Windows 2000, XP and Vista
Two fast 1MHz analog output channels
Drivers for C/C++, VB, LabVIEW, MATLAB, Agilent T&M Toolkit and VEE
3 year warranty
The U2300A Series USB data acquisition family consists of 7 modules for design validation and manufacturing engineers who conduct data logging, measurement or monitoring in a broad range of industries. All modules use the high-speed USB 2.0 interface to provide ease of connectivity and come bundled with the Keysight Modular Instruments Measurement Manager software.
The U2300A series can function as a standalone or modular device that plugs into the U2700A series chassis. Scan up to 64 channels, in any order, at the maximum conversion rate. Each channel can be configured with different gain, unipolar or bipolar, single-ended or differential and all this information is stored in the 512 location channel gain list.
The U2331A, U2355A and U2356A require two cables with male 68-pin VHDCI connectors to interface all 64 channels.
External Digital Trigger Input

Yes

External Analogue Trigger Input

Yes

Operating Temperature

0 - 55 °C
Datasheet

677.56 KB

Datasheet

6.71 MB