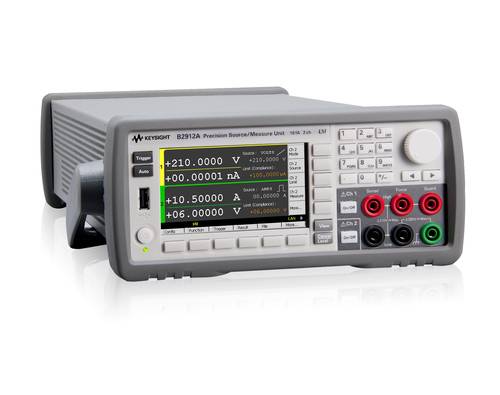 Keysight B2900A Series
Keysight Precision Source/Measure Units (SMU) & Power Source
Key Features
Integrated voltage/current 4-quadrant precision source & measurement capabilities
Wide coverage up to 210 V, 3 A DC/10.5 A pulse
10 fA/100 nV minimum measurement resolution (6. digits)
10 fA/100 nV minimum sourcing resolution (6. digits)
4.3" front panel colour display supports both graphical and numerical view modes
High resolution arbitrary waveform generation (AWG)
High speed digitizing capability (maximum 100000 points/s sample rate)
Free application software to facilitate PC -based instrument control
IVI-COM drivers, and SCPI supporting conventional SMU command set for basic compatibility
LXI Core Conformant, USB2.0, GPIB, LAN and digital I/O interface
The Keysigth B2900A (formerly Agilent B2900A) series are compact precision source/measure units featuring up to 2 channels with 10 fA/100 nV or 100 fA/100 nV measurement resolution and 210 V, 3 ADC/10.5 A pulse source capabilities. This series also features intuitive GUI to set-up and view I/V curve on the front panel.
The Keysight B2900A series offers unmatched measurement throughput and supports the conventional SMU SCPI command set for easy test code migration. The B2900A comes with a superior 4.3'' colour display and various view modes that improve productivity for test, debug and characterisation.
The B2900 series has a broad application range that spans from R&D and education uses to industrial development, test and manufacturing.

Datasheet

593.81 KB

Datasheet

1.49 MB

Datasheet

4.12 MB