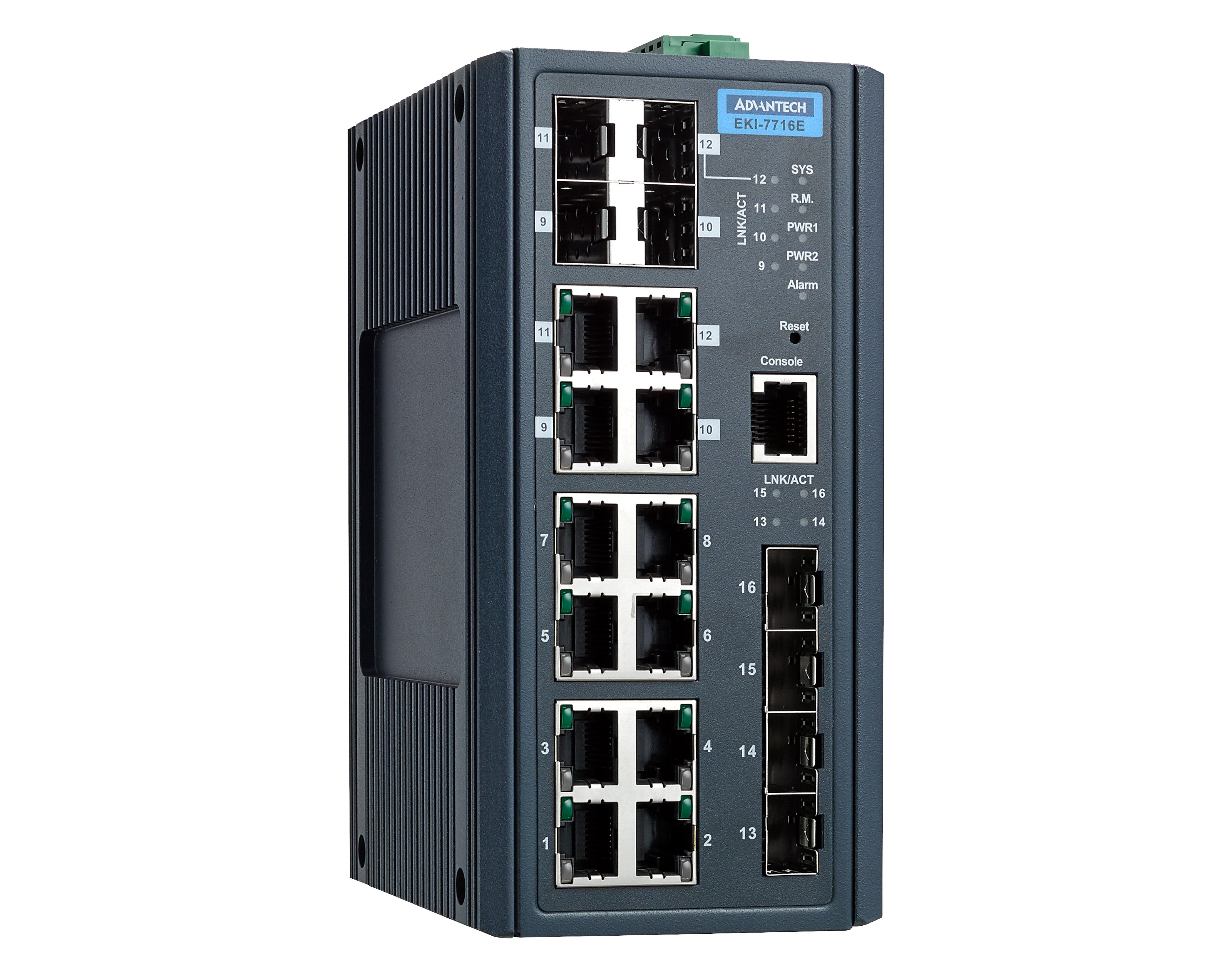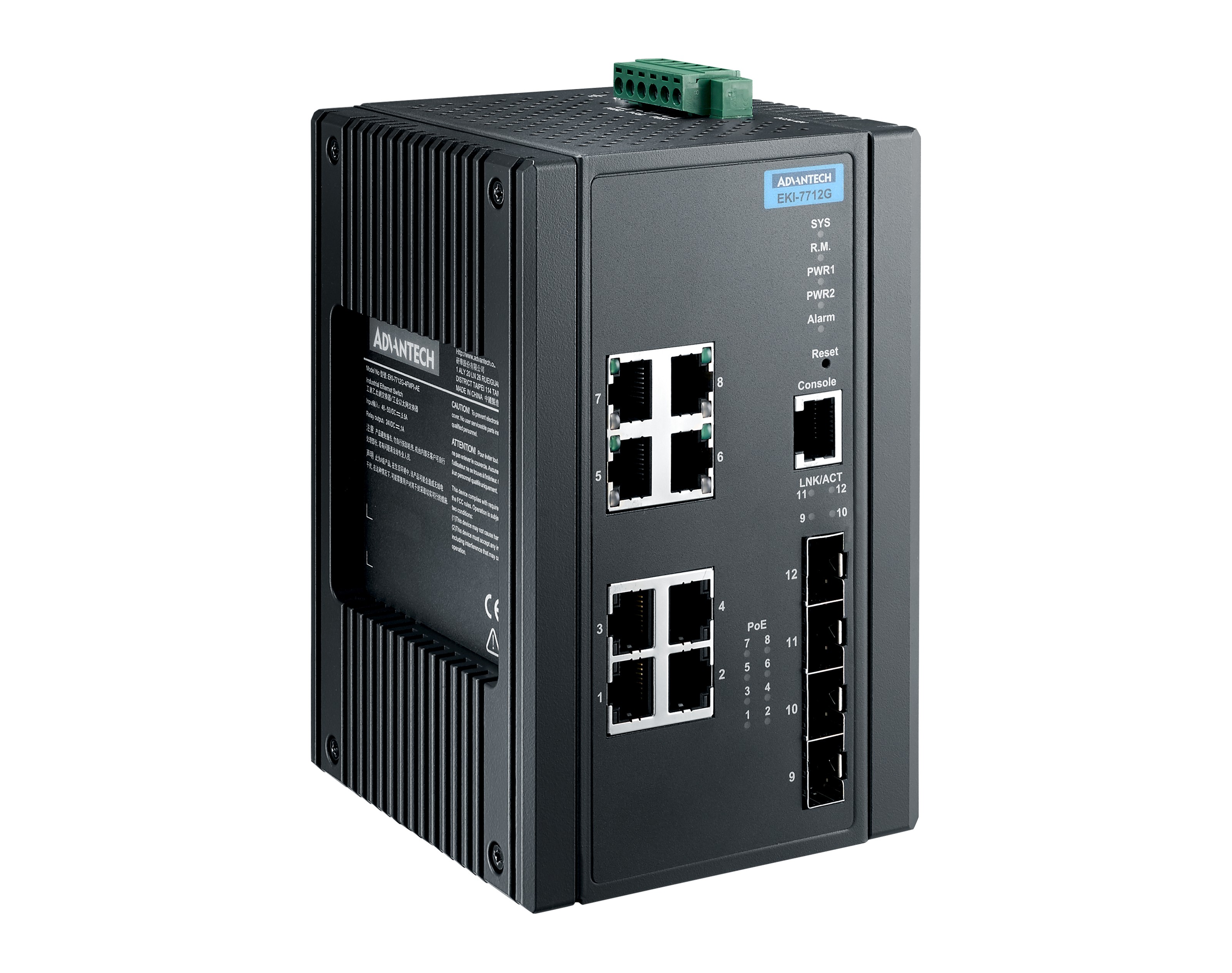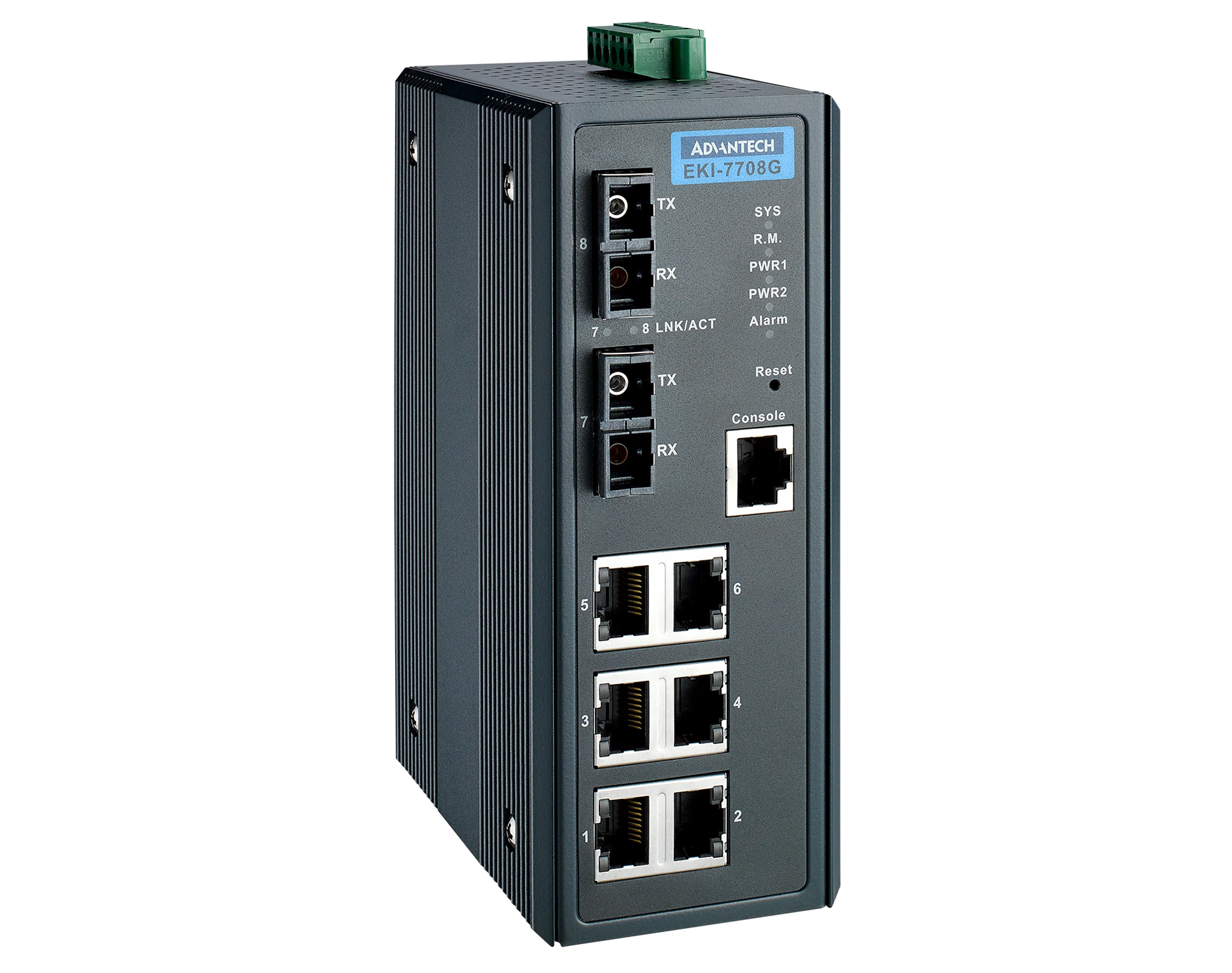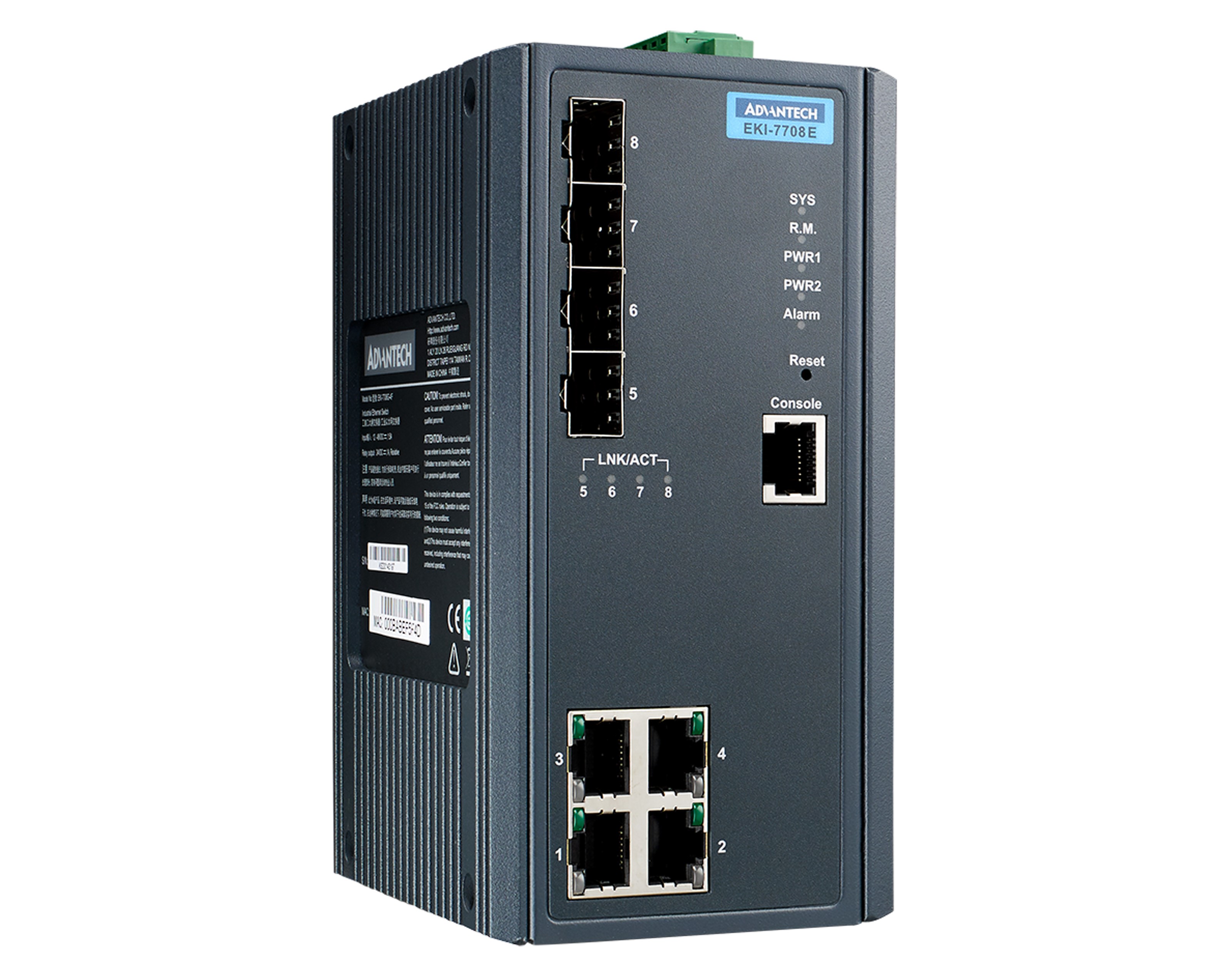 Advantech EKI-7700 series
Advantech 6/8/10/12/20 port gigabit layer 2 managed switches
Key Features
SFP socket for Easy and Flexible Fiber Expansion
Redundancy: X-Ring Pro (ultra-high-speed recovery time, <20 ms), RSTP/STP (802.1w/1D)
IXM function enables fast deployment
Security: 802.1x (port-based, MD5/TLS/TTLS/PEAP encryption), RADIUS
Management: SNMP v1/v2c/v3, WEB, Telnet, standard MIB, private MIB
Wide operating temperature range of -40 ~ 75°C (models available)
Advantech's managed Ethernet switches allow users to expand their industrial network quickly and efficiently, while their rugged industrial-grade design assures reliability and stability. Their switches provide fast Ethernet and gigabit combo ports as well as numerous network protocols, such as SNMP, PROFINET, and Ethernet/IP, thus assisting in achieving critical communication interoperability for industrial IoT applications.
The Advantech EKI-7700 series Ethernet switches are embedded with Advantech's IXM function, which can benefit users with fast deployment and can save considerably on engineering time and costs. These units also support NMS to help IT managers with networking maintenance and failure prevention. Finally, the series are equipped with X-Ring Pro, which can achieve ultra-highspeed recovery times of <20 ms, thus ensuring network stability.
The Advantech EKI-7700 series of ethernet switches can also features a wide operating temperature of -40 to 75°C and NEMA TS2 rating, making it ideal for use in traffic applications.
Management

Layer 2 Managed

Number of Ports

6
8
10
12
16
20

Type of Ports

Fiber SC Single Mode
Fiber SC Multi Mode
Copper RJ45
Copper RJ45(POE)
SFP

Min Operating Temperature

-10 °C
-40 °C

Max Operating Temperature

60 °C
75 °C

Input Voltage

12 VDC
24 VDC
48 VDC
Datasheet

513.76 KB

Datasheet

461.81 KB

Datasheet

438.43 KB

Datasheet

744.79 KB

Datasheet

507.26 KB

Datasheet

427.65 KB

Datasheet

492.30 KB

Datasheet

690.04 KB

Datasheet

559.84 KB

Datasheet

494.23 KB

Datasheet

484.39 KB

Datasheet

390.77 KB

Datasheet

514.96 KB

Datasheet

498.84 KB

Datasheet

695.68 KB

Datasheet

679.51 KB

Datasheet

391.53 KB

Datasheet

609.25 KB

Datasheet

411.21 KB

Datasheet

412.42 KB

Datasheet

412.54 KB

Datasheet

518.14 KB

Datasheet

518.00 KB

Datasheet

1.53 MB

Datasheet

2.04 MB

Datasheet

1012.39 KB

Datasheet

956.76 KB

Datasheet

846.29 KB

Datasheet

938.61 KB

Datasheet

908.15 KB

Datasheet

939.54 KB

Datasheet

751.86 KB