Wind-Turbine control and monitoring complete solution
A leading manufacturer of wind power systems used to generate electricity. The client is an innovator in wind technology and a driving force in the development of the wind power industry with installations all over the globe.
The requirement
The client required a system to monitor the operating conditions of 10 windmills in a 2.5 miles radius parameter to reduce demonstrate the cost of ownership of these critical machines. The system had to predict the failure of crucial components before they happened so that the client could effectively schedule maintenance dates of any windmill that required urgent attention.
A variety of physical signals, such as shock and vibration, from each windmill needed to be monitored to determine the condition of the main bearing and gearbox, the strain on the rotor blades and the temperature of the generator rotor and stator. As there was a significant distance between the wind farm and the control room, our client required a highly reliable network infrastructure.
The solution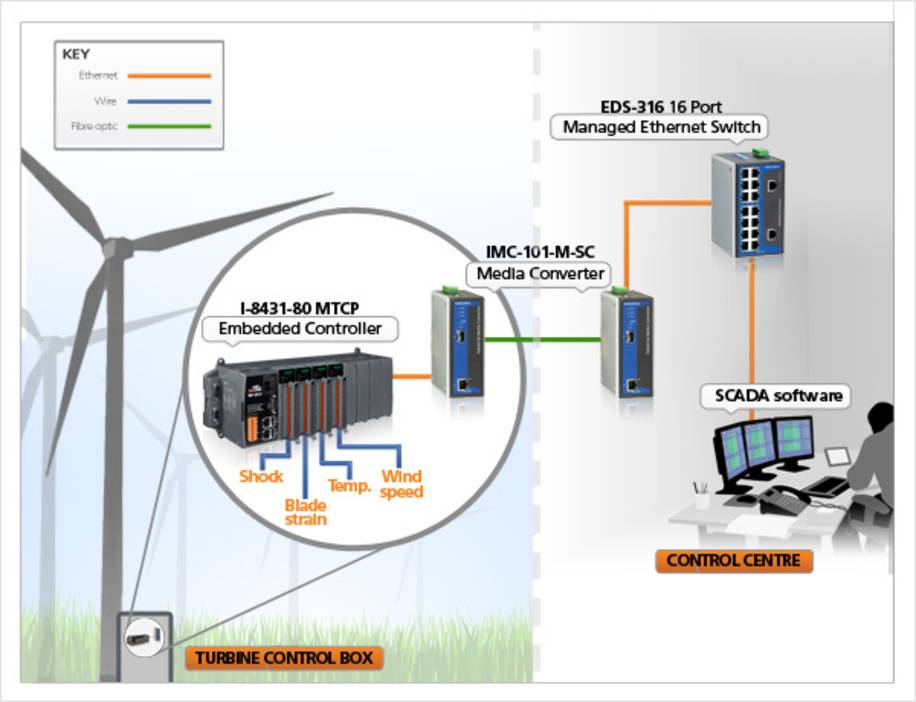 The Amplicon engineering team designed a complete system solution that met the exact project requirements. This included modular Ethernet I/O, an unmanaged switch, Ethernet to fibre converters and an Amplicon Ventrix computer running SCADA software.
The modular Ethernet I/O devices utilised in this project were the I-8431, which were enclosed in each windmill control box. Its four different plug-in modules allowed our client to monitor and control different physical signals. The hot-swappable, wide operating temperature range and easy maintenance features made the I-8431device an ideal product for this application.
In each windmill, an IMC-101-M-SC media converter was installed to convert the copper Ethernet from the I-8431 modular Ethernet I/O device to multimode fibre, so data/signals could then be transported via fibre optic cables to the control room. Another IMC-101-M-SC media converter was deployed in the control room to convert the multimode fibre from the windmill control box to copper Ethernet.
The EDS-316 unmanaged Ethernet switch was used to allow the signals from all the windmills to be manipulated and interpreted via the Amplicon Ventrix PC running SCADA software in the control room.
Why Amplicon?
Amplicon took ownership of this project by offering the client a complete solution. The expertise of the engineering team and the extensive industrial product portfolio was also a critical factor for the client who benefited from being able to use a single source supply chain.