Signal system upgrade
The Central line opened on 30th July 1900 as a cross-London route from Bank to Shepherd's Bush. The line runs from west of Leyton to east of White City; at Stratford, the lines use the main line station on the viaduct and at Mile End, it rises to the level of the District Line cut-and-cover station to offer cross-platform interchange.
The requirement & Solution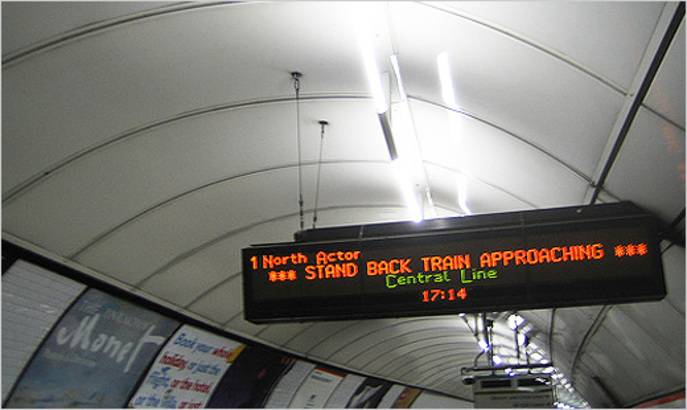 A large systems integrator in the rail market approached Amplicon to provide a rail approved hardware solution for their project. The Central Line of London Underground required a complete update of its signalling system using a new form of Automatic Train Protection and Automatic Train Control. The integrator would provide the software and their own specialist technologies whilst requiring the assistance of Amplicon with rail approved rackmount computers, cabinets and networking.
To communicate with our client's serial devices we supplied an NPort 5600-16 serial-to-Ethernet device. Designed for high port count or rack-mounted applications, these units have been chosen by many high profile companies as a solution for getting RS232 or RS422/485 signals over a TCP/IP network. A unique feature of the 5600 series is the LCD display on the front of the unit. This makes field configuration and trouble-shooting much easier than alternative products, especially when used in conjunction with the 32 LED activity indicators, also on the front panel.
This linked to our top of the range Ventrix series of systems using a single-board computer configuration with industrial components to provide a complete road mapped solution. In conjunction with our client, the complete solution was tested at our own EMC facility to the following standards:
• LUL Engineering Standard Electromagnetic Compatibility E1027 A3
• LUL Electromagnetic compatibility (EMC) (2-01018-001)
• LUL Manual of Good Practice M1027 A2
• LUL Engineering Standard Environmental requirements for signalling equipment E7202 A2
Upgrades to the Ventrix system were solid-state hard drives to withstand extreme shock and vibration, a triple-redundant PSU and dual ball bearing fans.
The complete solution was delivered to our client fully configured into a Schroff cabinet, with a 17" Kwikdraw with 16 Port KVM installed to supply ease of use over the 9 systems in each cabinet.
Results
The end-user was very impressed with the timely delivery of the solution and value-added services such as onsite warranty and the EMC compliance facility. The customer commented that our products were seen as robust, reliable and competitively priced.
Amplicon rail division specialises in building long term relationships in the rail market.
Why Amplicon?
With over 40 years of experience in supplying high-end solutions and many similar projects already completed, Amplicon were the first choice to supply hardware for this high profile project.
If you would like more information please contact our industrial computing sales engineers on 01273 570 220 or email sales@amplicon.com.