Rolling stock condition monitoring system
Our client is a global leader in rail transport infrastructures and has been working with leading train operators and rolling stock maintenance companies for many years, performing a wide range of maintenance tasks.
The requirement
Our client required a rugged but compact solution to remotely monitor and control on-board systems such as air conditioners, fire detectors, lighting controls, emergency alarms, door indicators and also be able to reduce maintenance costs. The system needed to efficiently maintain a safe and reliable operation of the on-board systems.
The solution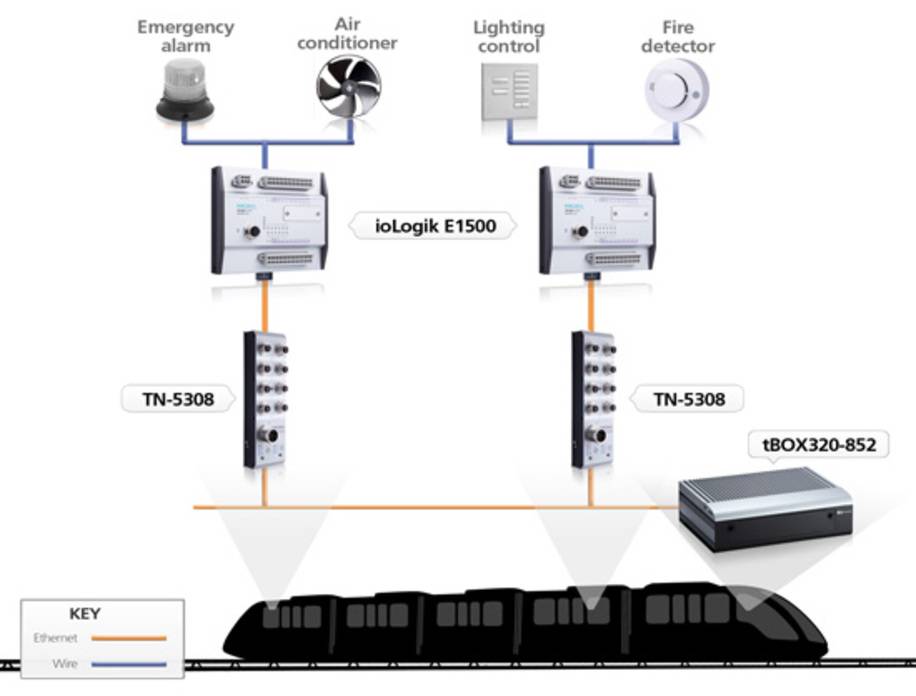 The Amplicon Measurement & Control specialist specified a monitoring system that included a tBOX320-852 rail approved fanless Industrial PC utilised for data processing and analysis, a network of TN-5308 EN 50155 8-port unmanaged Ethernet switches for transmitting the data from the selected ioLogik E1500 units back to the PC.
The ioLogik E1500 modules were deployed to monitor and control the door indicator, air conditioners, fire detectors, emergency alarms and lighting controls on trains. The unique compact size and rugged design made the ioLogik E1500 an ideal choice for this application. This unit features aluminium housing, a threaded M12 Ethernet port to ensure network connectivity for shock and vibration conditions, a spring-type terminal block for vibration-resistant cabling, and a convenient DIN rail mounting assembly. The unit is also compliant with EN 50121-3-2, EN 50121-4 and essential sections of the EN 50155 standard, making them the best solution for this project.
Why Amplicon?
Amplicon has a track record in providing products, solutions and technical advice to the leading rail integrators; the Amplicon product portfolio combined with a highly experienced engineering team gave the client confidence that the project would not only meet the exacting specification but would be delivered on budget.