PXI based mobile phone testing station
A global manufacturer of mobile phones wanted to update their PXI based ATE system. They needed to reduce both the number of test stations and the test time. The system needed to be simple enough for an unskilled operator to use thereby further reducing operating costs.
The requirement
The system had to be flexible enough to accommodate different phone models, as the production lines could be changed depending on demand for each model.
The solution had to be integrated into their existing RFID system which provides a full production audit trail. A range of high-density digital inputs and high-speed analogue signals were also required.
The solution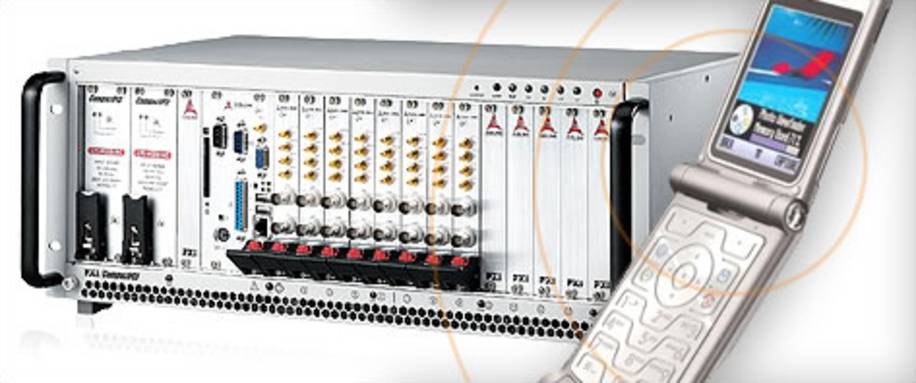 Amplicon were able to satisfy all the requirements with a repeatable PXI solution. An 18 slot chassis with built-in redundant power supply was supplied. This was populated with a 1.8 GHz Pentium M controller, high-speed digitiser, digital I/O module, multiplexer and 7½ digit DMM.
Amplicon produced a bespoke software package to handle the full testing process. This allowed the customer to add and modify tests as they required. The existing RFID database and scanners were integrated to automate the testing procedure as far as possible.
The software was written to ensure that maximum time saving per test was achieved, and this shortened the average test duration by 40% which reduced both the number of systems and manpower required.
All of the PXI systems were supplied ahead of schedule and to the full specification. The customer was able to successfully integrate all systems into their production line.
Why Amplicon?
Amplicon was seen as the preferred supplier as we are able to offer over 50 years experience within the IT and Instrumentation industry. By discussing their needs in detail with our application engineers, we were able to meet the customer's requirements with an appropriate solution that was both easy to use and met their budgetary constraints.