Intelligent temperature monitoring alarm and control for a pumping system
The client is a global leader in the storage, supply and distribution of high-quality water services to the domestic, commercial and industrial markets.
The requirement
The client was experiencing severe problems with the pumping system on the factory floor. The bearings of the pump motor were burning out after running for an extended period of time. The downtime and damage that the overheated bearings caused had increased the maintenance cost and reduced productivity and profitability. A solution was urgently required to eliminate the extra expense of repairing or replacing the bearings.
The solution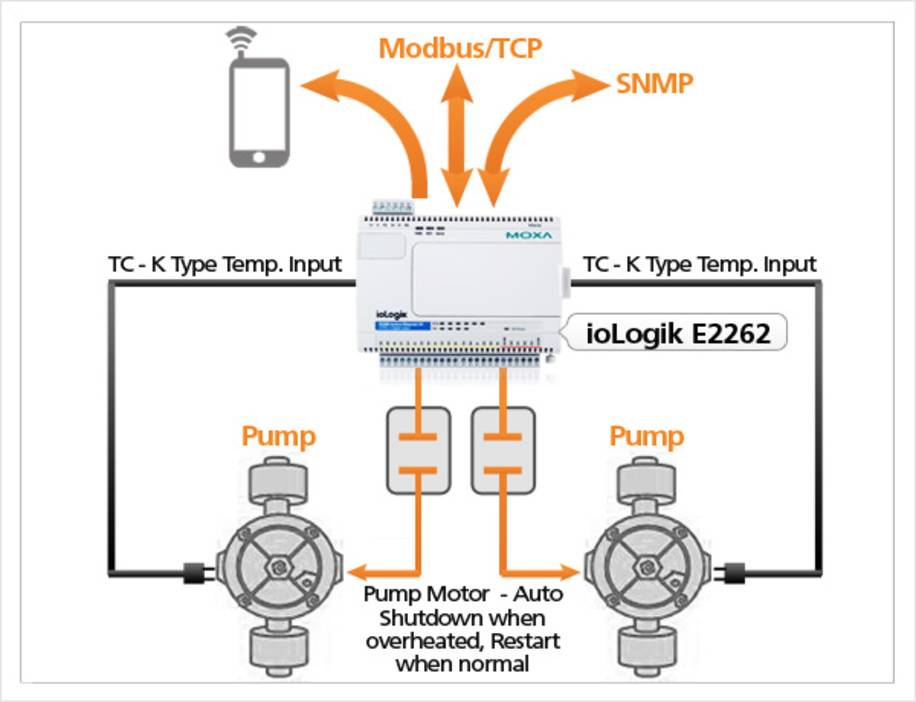 The distributed system designed by Amplicon consisted of a front-end controller that shut down the motor when the temperature got too high and restarted it after the temperature dropped back down to a more appropriate level. The front-end controller would also send out a notification e-mail to the central site and field engineers' cellular handset when this happened.
The controller chosen for this application was the ioLogik E2262 Active Ethernet I/O server. This controller has 8 thermocouple inputs and 4 digital outputs which would allow for the monitoring of the motor temperature via thermocouple sensors and also give connection to multiple outputs such as alarms, buzzers and lights.
In addition, the Click&Go local control logic gave easy programming of the ioLogik E2262 to control the pumps, generate alarms, send status updates to the control centre and also deliver e-mail notifications to the site supervisor. Click&Go logic also allows the ioLogik unit to seamlessly integrate and manage temperature monitoring, output control and alarms.
Utilising ioLogik E2262 for this application provided our client with the following below benefits:
A controller equipped with both thermocouple sensor inputs and digital output
100 meters of thermocouple sensor cable length with 2 built-in CJC
Click&Go's easy IF-THEN style control logic
Alarm messages can be generated via TCP/UDP/SNMP trap or e-mail
Compact size and cost-effectiveness
Scheduling feature to set shutdown and start time for the pump motor
Powerful IF-THEN-ELSE programming for up to 24 rules
OPC Connectivity to connect to SCADA systems
Why Amplicon?
Amplicon was selected for this project as they clearly demonstrated a high level of technical knowledge and many years of experience in water/wastewater projects. Liaising with our technical sales and applications engineers (free pre and post-sales support) ensured that the solution specified was highly competent and cost-effective.