Hydraulic Power Unit automation system onboard an offshore construction vessel
The Amplicon network specialists were approached to provide the network infrastructure for a Hydraulic Power Unit automation system onboard an offshore construction vessel. The customer is a leading system integrator who provides electrical engineering services to the global marine, offshore and industrial markets.
The requirement & Solution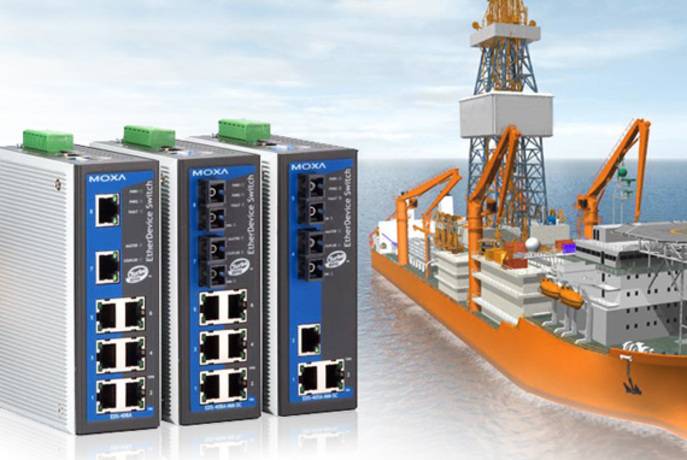 The customer required an industrial Ethernet network that would meet the following criteria:
Connectivity for six PLCs, one HMI and various other Ethernet-based devices.
A level of redundancy that would protect against the failure of any network node.
Appropriate maritime industry approvals for the hardware to ensure all equipment supplied had suitable
EMC and environmental specification for the demanding application environment.
PROFINET support for integration with SIMATIC Step 7 software.
Amplicon worked with the customer and recommended the Moxa EDS-400A-PN series of managed industrial Ethernet switches; these models perfectly matched the customer's requirements.
To match the project criteria, five switches were required to provide enough connectivity in each location.
With support for the Turbo Ring redundancy protocol, the EDS-400A-PN series can be connected together using a ring topology that will automatically recover in the event of a network node or connection failure.
The EDS-400A-PN series are supplied with DNV type approval as standard; this classifies the equipment as appropriate for use in maritime applications.
Simple installation of a Generic Station Description (GSD) file means that the EDS-400A-PN series can easily be visualised, monitored and configured using SIMATIC Step 7 software suite.
Why Amplicon?
Amplicon was the supplier of choice as they could demonstrate years of experience working in applications similar to the customers project; and as the leading provider of Moxa equipment in the UK, with engineers trained to support and specify at the highest level the customer could be confident in the service they would receive from the Amplicon network specialists.