Central Control of Passenger Information System
Our customer is a global leader in rail transport infrastructures and has been working with leading train operators and rolling stock maintenance companies for many years, working on a wide range of rail projects.
The requirement & Solution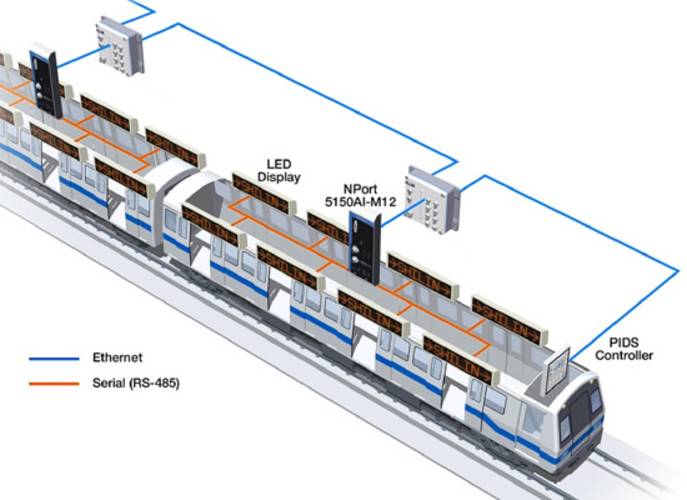 A passenger information display system (PIDS) is an electronic information system which provides real-time passenger information. In this application, our client required to install a series of serial RS-485 based LED displays into a fleet of metro carriages.
The challenge was that each display needed to communicate to a central PIDS controller via an Ethernet-based railcar network. The system also had to be tested to the EN50155 criteria to ensure reliable operation in a railcar environment where exposure to high levels of shock, vibration, high temperatures and electronic noise is commonplace.
The NPort 5150AI-M12 serial to Ethernet device server was chosen for this application because it offered the functionality to enable serial RS-485 based devices to communicate over an Ethernet-based network, as well as providing a superior environmental specification which included rugged M12 connectors, wide operating temperature range and compliance with the EN50155 standard.
Results
Each LED display was connected to the RS-485 input of the NPort 5150AI-M12, this allowed for each display to connect directly to the Ethernet railcar network which ran throughout the carriages and fed back to the central PIDS controller. The M12 connectors of the NPort 5150AI-M12 were used t connect to the Ethernet network, ensuring reliability in the presence of shock and vibration as well as dust and moisture ingress.
Why Amplicon?
The customer chose Amplicon because of the successful existing supplier relationship and Amplicon had the right mix of IT and Communications Equipment for the application. We provided the customer with proven technical expertise and reliable technologies and products.