Auditorium Centre Monitoring and Control System
Our customer is a renowned provider of building management systems, specialised in minimising energy consumption and maintaining consistent conducive building conditions through close control and monitoring of heating, ventilation, air conditioning and other building services.
The requirement
Due to the poor lighting and uncomfortable temperature conditions in an auditorium, plus the continuous price rises in energy bills, our customer required a system to control, monitor and optimise the lighting and room temperature of the auditorium centre; one that would dramatically cut down on the energy costs. The customer also required a wall-mounted portable, easy to use HMI device that would enable the control of the lighting and temperature from a central location.
The solution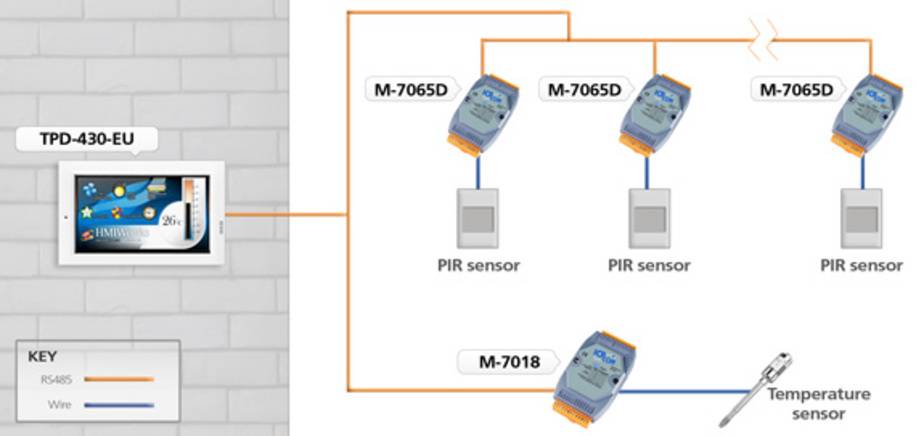 Following the evaluation of the customer requirement, the solution provided by the Amplicon Measurement and Control specialists consisted of distributed Modbus RTU remote I/O devices to acquire signals from the PIR and thermocouple sensors and a portable programmable HMI device to control these remote I/O devices from a central location.
The M-7065D remote I/O unit was specified to acquire signals from the PIR sensors and the M-7018Z for the thermocouples. These distributed RTU remote I/O units are extremely cost-effective, highly reliable and can easily communicate with SCADA/ HMI software and PLC devices.
The TPD-430-EU 4.3" Touch Screen HMI was fitted into an electrical wall-mount outlet to control the Modbus RTU modules (19 x M-7065D & 1 x M-7018Z). The TPD-420-EU provided the perfect solution as it is compact, reliable and cost-effective whilst supporting Modbus RTU protocol and offering a versatile programming development environment (Ladder Logic or C Language) and seamless integration with the remote I/O modules.
Results
The customer was delighted with the solution provided by the Amplicon team as it met both their project requirements and budgetary constraints. The TPD-430-EU and the M-7000 series of I/O devices were easy to integrate and these units support Modbus RTU protocol; the customer programmed the TPD-430-EU HMI device with ease giving them more time for installation.
Why Amplicon?
The customer had previous experience of the Amplicon Measurement & Control team and using them for this project gave them confidence that their project would be understood, well managed and within their cost range.