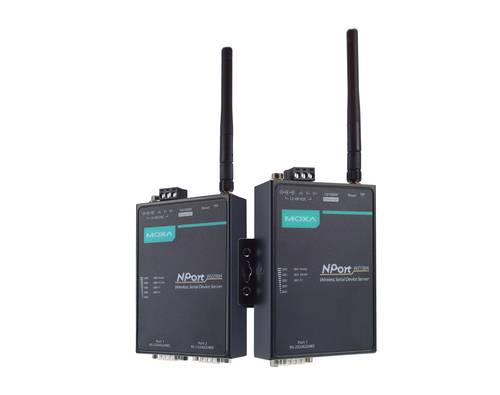 Moxa NPort W2150A and W2250A series
Moxa Advanced 1 and 2 port wireless device servers
Key Features
Support for IEE 802.11 a/b/g networks
Built in WLAN site survey tool
Wireless security including WEP,WPA,WPA2
Wireless roaming with user definable signal strength threshold
Any baud rate support
Off line port buffering and serial data log for each port
Secure and remote management using SSH/SSL
The Moxa NPort W2150A and Moxa W2250A are the ideal choice for connecting your serial devices - such as PLCs, meters, and sensors - to a wireless LAN. They offer support for IEEE 802.11a/b/g operating on either the 2.4GHz or 5GHz band.
The units support wireless roaming for mobile applications, WPA2 for high wireless security, and off-line port buffering to preserve captured serial data in the event of a temporary wireless outage.
Please note that Moxa current lead times are a minimum of 20 to 24 weeks. Contact our team for best alternatives with shorter lead times - 01273 570 220.
Max Operating Temperature

55 °C

Min Operating Temperature

0 °C

Input Voltage

12 to 48 VDC

Type of Ethernet Ports

Copper RJ45

Baudrate

Up to 921.6 Kbps