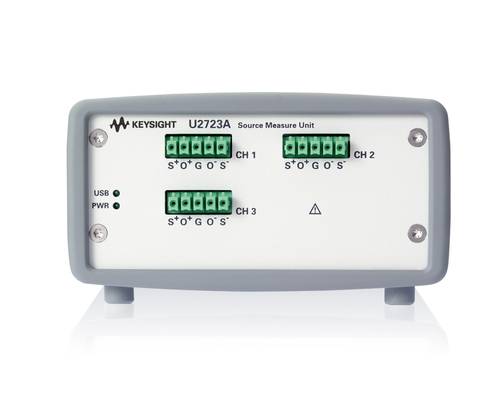 Keysight U2722A / U2723A series
Keysight USB modular source measure unit (SMU), ±20V, ±120mA
Key Features
High speed USB 2.0 compatible instrument
Three channel SMU (Source Measure Unit)
Four quadrant operation (±20V)
Maximum current output of 120mA per channel
0.1% basic accuracy
Supports Windows 2000, XP and Vista
Drivers for C/C++, VB, VB.Net, LabVIEW, MATLAB, Agilent T&M Toolkit and VEE
The Keysight U2722A/U2723A (formerly Agilent U2722A/U2723A) USB source measure unit (SMU) is more than just a power supply. It can be programmed for voltage and current, and measure signals down to picoAmps. It is capable of four-quadrant operation, being able to source or sink current with both polarties of output voltage. It can be used as a single USB instrument, or as part of a test system within the Keysight six-slot chassis (Agilent six-slot chassis).
The U2723A offers additional features such as embedded test scripts to simplify automated testing.
The Keysight Measurement Manager (Agilent Measurement Manager) application software provides a quick and easy means to configure and control your SMU without requiring any programming work.
Operating Temperature

0 - 50 °C