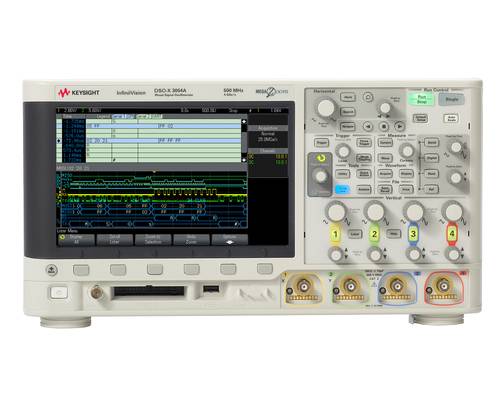 InfiniiVision DSOX3054A - 96102729
Keysight InfiniiVision DSOX3054A 4 analog channel 500MHz scope
Key Features
8.5" WVGA display 50% larger than competing models with 2X the resolution
Up to 1,000,000 waveform updates/second
Hardware-based measurement applications including serial decode
Only 20 MHz built-in WaveGen function generator in this class
Fully upgradable: bandwidth, MSO, memory, measurement applications and WaveGen
The Keysight InfiniiVision 3000 X-Series features the deepest memory in its class with up to 4 Mpts of Keysight's patented MegaZoom IV technology that is always enabled and always responsive providing the industry's fastest update rate at up to 1 million waveforms per second, with no compromise if you turn on measurements or add digital channels.
Keysight's InfiniiVision Series oscilloscopes are the industry's only scopes to use hardware-based serial protocol decoding. Other vendors scopes use software post-processing techniques to decode serial packets/ frames.
In addition, the 3000 X-Series offers 33 automated measurements, nine parametric triggers, six serial protocol triggers, as well as seven waveform math functions including (FFTs), stored setups and waveforms, mask testing and much more.
Code: 91102774
Keysight N2790A Differential probe 100MHz +/- 1.4kV with AutoProbe interface

Price £1,480.00

Code: 91102773
Keysight N2795A Single-ended active probe 1GHz

Price £1,041.00

Code: 91102772
Keysight DSOX3AUDIO Audio serial triggering and analysis (PS)

Price £1,371.00

Code: 91102771
Keysight DSOX3AUTO Automotive serial triggering and analysis (CAN, LIN)

Price £1,371.00

Code: 91102770
Keysight DSOX3COMP Computer serial triggering and analysis (RS232/422/485/UART)

Price £1,371.00

Code: 91102769
Keysight DSOX3EMBD Embedded serial triggeting and analysis (I²C, SPI)

Price £1,371.00

Code: 91102768
Keysight DSOX3GSM Segmented memory for InfiniiVision 3000-X Series

Price £664.00

Code: 91102767
Keysight MSOX3MASK Mask limit testing for InfiniiVision 3000-X Series

Price £1,371.00

Code: 91102766
Keysight DSOX3WAVEGEN Waveform generator upgrade for InfiniiVision 3000-X Series

Price £632.00

Code: 91102765
Keysight DSOX3MSO DSO to MSO upgrade, 16 channel for InfiniiVision 3000-X Series

Price £1,337.00

Code: 91102764
Keysight DSOX3MemUp Memory upgrade - 4M for InfiniiVision 3000-X Series

Price £444.00

Code: 91102756
Keysight N6457A soft carrying case and front cover for InfiniiVision 3000-X
Keysight N6457A soft carrying case and front cover for InfiniiVision 3000-X and 2000-X series

Price £133.00

Code: 91102755
Keysight N6456A rack mount kit for InfiniiVision 3000-X and 2000X series

Price £311.00

Code: 91102754
Keysight DSOXGPIB GPIB module for InfiniiVision 3000-X and 2000X series

Price £452.00

Code: 91102753
Keysight DSOXLAN LAN and VGA module for InfiniiVision 3000-X and 2000X series

Price £179.00

Code: 91102752
Keysight 1147B AC/DC current probe 50MHz 15A with AutoProbe interface

Price £2,341.00

Code: 91102747
Keysight N2793A Differential active probe 800MHz ± 15V

Price £3,213.00

Code: 91102746
Keysight N2792A Differential active probe 200MHz ± 20V

Price £1,933.00

Code: 91102743
Keysight N2889A Passive probe 350MHz 10:1/1:1 switchable attenuation

Price £132.00