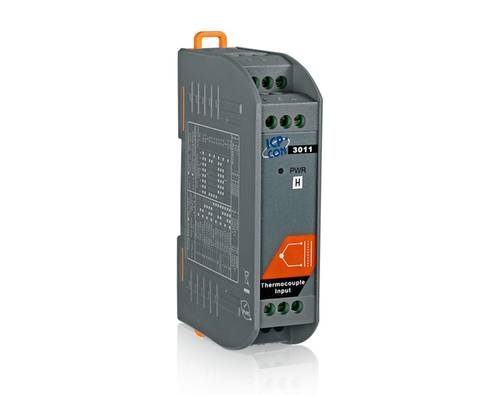 ICP DAS SG-3011H series
ICP DAS Isolated Thermocouple conditioners
Key Features
High-Speed Sampling Rate: 2 kHz
Configurable for a Wide Range of Thermocouple Types
Adjustable CJC Offset
Open Thermocouple Detection
Three-way Isolation: 1000 VDC
Operating Temperature Range: -25 to +75°C
The ICP DAS SG-3011H thermocouple input signal conditioner uses microprocessor-controlled high-resolution 24-bit dual-slope, integrating A/D converter to acquire thermocouple signal and cold junction compensation input.

Temperature measurement is performed by using the thermocouple linearization and cold junction compensation function. Thermocouple types J, K, T, E, R, S, B, N, C, L, M, L2 (DIN43710) are supported, and a 2 kHz sampling rate is provided for thermocouple input.

The power supply that drives the module's input and output circuitry is internally isolated, enabling SG-3011H to offer true channel - to - channel isolation.

The SG-3011H has been designed to operate in awide temperature range, and is suited for applications for automation, diagnostics and testing.


Output signal

0/5 Vdc
0/10 Vdc
0/20 mA
4/20 mA