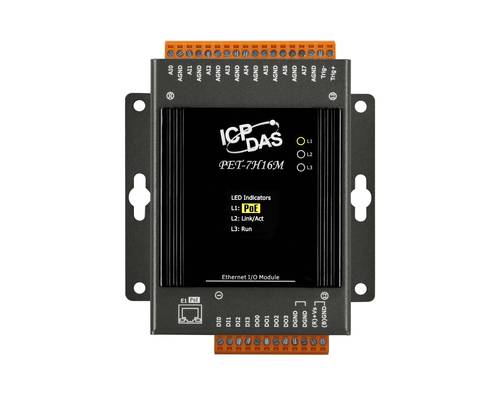 ICP DAS PET-7H16M series
Ethernet High Speed DAQ 200 kS/s Per Channel Simultaneous Sampling
Key Features
8 Single-ended Analog Input Channels (16-bit Resolution)
Maximum Sample rate: 200 kS/s per channel
Supports real Sample and Hold
8 Single ended Analogue Inputs
4 Digital Inputs
4 Digital Outputs
The PET-7H16M series is a high-speed data acquisition device with a built-in Ethernet port for data transfer over a TCP/IP network utilising the Modbus TCP protocol.
It includes 8 high-speed, 16-bit, single-ended analogue input channels that can sample and hold at a maximum of 200kHz on each channel. Each analogue input can be programed to take either ±5V or ±10V.
In addition, the PET-7H16M has 4 digital Input channels and 4 digital output channels. The Digital Outputs can be configured for short-circuit and overload protection. It also provides 4kV ESD protection as well as 2500VDC intra-module isolation.
I/O Direction

Inputs & Outputs