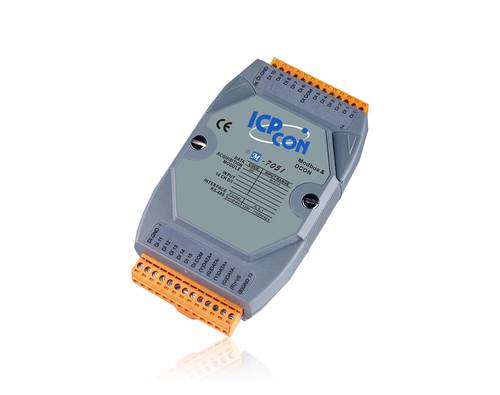 ICP DAS M-7000 Series
ICP DAS Remote analog and digital I/O units, RS485
Key Features
RS485 Remote I/O units
Flexible I/O, includes analog, digital, relay and counters
Software supports direct ASCII communication and 32-bit programming DLL
Communication up to 1.2km (without repeaters)
Screw terminal signal connectors
New "Robust" models have wider operating temperatures and higher noise immunity
3000 VDC isolation (inter-module)
High voltage overload protection: M-7017R, M-7018R, M-7019R, M-7055
High digital input voltage, 50 Vdc: M-7055
Short circuit protection for digital output: M-7055
Open RTD detection: M-7015, M-7033
Individual channel configurable: M-7015, M-7019R
The ICP DAS M-7000 series of remote data acquisition and control modules are designed for use in PC based industrial applications. They are ideal for monitoring, control and automation of most mechanical or electrical equipment. They can be used with thermocouples, RTD sensors, pressure, flow, voltage, current and TTL compatible digital signals.
All modules with Modbus communications can also use ASCII communications. In addition they have open circuit detection, and can have different settings for each input channel.

Each network of M-7000 modules will require an I-75xx (converter) to convert from RS485 to the PC serial port.
Signal

Analogue
Digital
Multifunction
Communication 

Protocol

DCON
Modbus RTU/ASCii

I/O Direction

Inputs
Outputs
Inputs & Outputs

Channels

2
3
4
5
6
7
8
9
12
16
20
Datasheet

90.32 KB

Datasheet

360.88 KB

Datasheet

410.05 KB

Datasheet

195.65 KB

Datasheet

172.17 KB

Datasheet

491.02 KB

Datasheet

260.36 KB

Datasheet

262.68 KB

Datasheet

256.38 KB

Datasheet

396.60 KB

Datasheet

93.15 KB

Datasheet

293.11 KB

Datasheet

281.83 KB

Datasheet

232.79 KB

Datasheet

112.48 KB

Datasheet

1.47 MB

Datasheet

936.15 KB

Datasheet

1.20 MB

Datasheet

637.80 KB

Datasheet

2.65 MB

Datasheet

973.86 KB