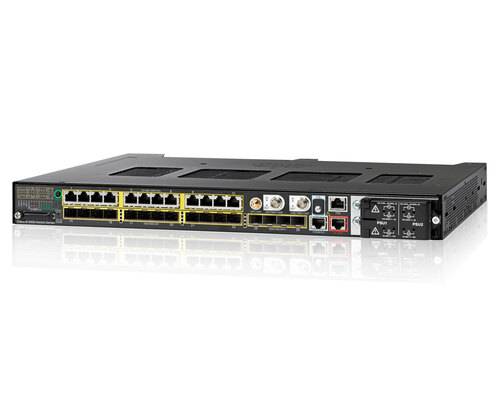 Cisco IE 5000 series
Cisco 28 port Layer 3 industrial Ethernet switches
Key Features
Bandwidth and capacity to grow with networking needs: High performance non-blocking switch capacity with up to 24 Gigabit Ethernet downlink ports and four 10 Gigabit or four 1 Gigabit Ethernet uplink ports per switch.
SFP+ heater to allow standard SFP+ optics to operate to -40C (10GE SKU only).
Cisco IOS Software features for smooth IT integration and policy consistency.
Oven-controlled crystal oscillator (OCXO) to provide superior frequency stability needed for precise synchronization applications.
Integrated hardware support for features such as GPS receiver, IRIG, TOD, TSN, and HSR that can be enabled with future software changes to add value and longevity.
The Cisco® Industrial Ethernet (IE) 5000 series are top of the range switches with four 10 Gigabit or four 1 Gigabit Ethernet uplinks and 24 Gigabit Ethernet downlinks. Coming in a 19" rackmount, ruggedised Form Factor that provides Layer 2 and Layer 3 line rate aggregation and copper Power over Ethernet (PoE) connectivity in the harshest of industrial environments.
The Cisco IE 5000 series uses superior high-bandwidth hardware switching and proven Cisco IOS® Software to deliver highly secure and scalable access and aggregation to layered deployments. The Cisco IE 5000 series is ideal for Industrial Ethernet applications where intelligence, aggregation, and superior bandwidth is required.
Management

Layer 2 Managed

Type of Ports

Copper RJ45(POE)
SFP

Max Operating Temperature

70 °C

Min Operating Temperature

-40 °C

Input Voltage

24 VDC
48 VDC
110 VDC
220 VDC
110 VAC
220 VAC
240 VAC