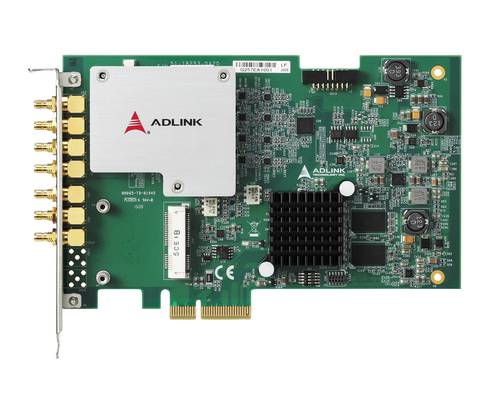 ADLINK PCIE-9834 series
ADLINK 4-CH 16-Bit 80MS/s PCI Express Digitiser
Key Features
4-Ch Simultaneous inputs, with up to 80MS/s rate
High resolution 16-bit ADC
Up to 40MHz bandwidth for analog input
1GB onboard storage memory
Programmable input voltage range of ±0.5V, ±1V, ±5V or ±10V
Scatter-Gather DMA data transfer for high speed data streaming
Provide 10 or 20 MHz digital onboard filter
PLL module for precise synchronization (PCIe-9834P only)
Supports Windows 10, 8 and 7
The PCIe-9834 and PCIe-9834P high speed digitisers from Adlink incorporate a number of features that enable fast high quality data acquisition. These include 4 simultaneous 80MS/s input channels with 16-bit resolution A/D conversion, 40MHz bandwidth, up to 1GB on-board memory and PLL module (PCIe-9834P only).
The multiple channels allow concurrent recording of signals without inter-channel phase delay. The large memory allows a long recording duration even at the highest sampling rate.
The PCIe-9834 also uses the PCIe x4 form factor allowing for serial point-to-point connections, where burst connection speeds of 250MB/s can be achieved on each connection pair (lane).
External Digital Trigger Input

Yes

External Analogue Trigger Input

No

Operating Temperature

0 - 50 °C