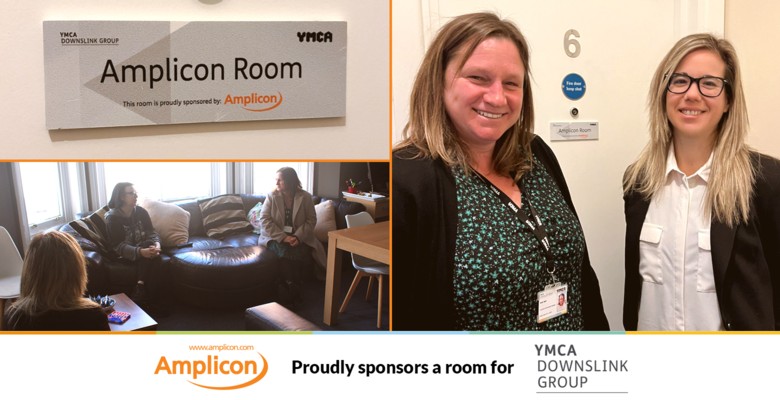 23rd March 2023
Amplicon renews its sponsorship of the YMCA Downlink support centre
In 2022, Amplicon became the first-ever corporate partner to sponsor a room for YMCA. On 2nd March, Amplicon had the pleasure of visiting the support centre where the room they sponsor is located..
At the housing project, Amplicon was welcomed by Sam Hart, Corporate Partnerships Manager who guided the team through the different space areas and rooms distributed across the Gareth Stacey House support centre.
This visit was a great opportunity to learn more about the incredible work and efforts the YMCA team provide to support young people in need.
YMCA DownsLink Group supports vulnerable young people aged between 16-25 in Surrey and Sussex. They provide a home to more than 700 young people at risk of homelessness each year. With up to 200 beds, they are the largest voluntary sector provider of supported housing for young people in Sussex and Surrey.
One of the incredible projects Amplicon learnt about was the chaplaincy sessions. With weekly shared meals, the YMCA chaplaincy sessions focus on hospitality within the housing projects and provide a sense of community, family and friendship. The weekly sessions also offer one-to-one support in a more informal and confident environment.
Sadly, since 2010 there has been a 73% overall decline in spending by local authorities on youth services. YMCA is a non-government funded charity, meaning with the government cutting support care for young adults, it is becoming increasingly difficult for YMCA to provide care in crucial areas, such as therapy for young people who have suffered sexual exploitation.
Going forward, Amplicon will continue to support this incredible charity and hope that this action will encourage other businesses to donate and assist the YMCA during these challenging times.
Sam Hart, Corporate Partnerships Manager commented: "YMCA DownsLink Group are so grateful for the interest shown by Amplicon and their employees to support the services we provide locally in Brighton & Hove. Youth services are in crisis and without the support of businesses like them, we would struggle to continue to help as many young people as we do."
If you are looking at also sponsoring a room or just want to make a donation, contact YMCA Downlink