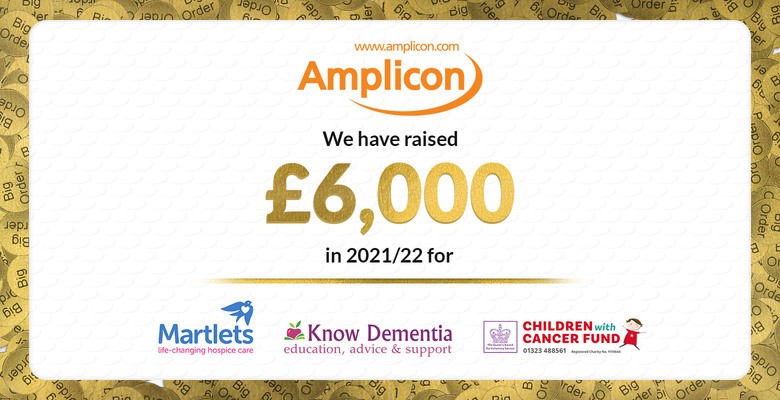 11th August 2022
Amplicon raises an amazing £6000 for local charities
2021-22 another challenging year where many businesses and organisations across the globe are continuing to feel the effects of the pandemic, making it even more important to support charitable causes.
In their last financial year, Team Amplicon has continued to raise money for various local charities. Among their many fundraising initiatives, Amplicon supported Know Dementia, Children with Cancer Fund, and Martlets Thanks to the hard work and dedication of Team Amplicon, an outstanding £6,000 has been raised, and this has been split between the three amazing organisations.
During the past 8 years, this initiative has continued to be one of the principal ways for Amplicon to support their local community. During this period, they have managed to raise over £28,000. Amplicon is committed to maintaining their fundraising by extending their support in this coming year to three more charities: Wadars Animal Rescue, Age UK (West Sussex, Brighton & Hove) and Martlets.
Jennie Morrison-Cowan, CEO at Know Dementia said: "Thank you Amplicon team for all your support, the money will be used to support our new choir in Hassocks called Brain Waves. The choir provides the opportunity for people with a neurological condition such as dementia, Parkinson's disease and a range of other conditions and their family members/carers to meet and enjoy the health benefits of signing. The £2,000 raised by Amplicon is brilliant and will help tremendously."
Amber Lilly, Corporate Partnerships Executive at Martlets commented: "Thank you so much to Amplicon and its employees for fundraising an incredible £2000. By making a donation to Martlets you are helping local people affected by terminal illness make the most of the precious time they have left, thank you, your support changes lives."
Chris Downton, Founder of Children with Cancer Fund said: "This incredible amount of £2,000 raised by Amplicon will have a tremendous impact on the work our charity does supporting children with cancer and their families in East Sussex. This money will go towards funding holidays for our families to provide a respite from cancer treatment, allowing a family to spend quality time together and have some fun to forget about the difficulties they have been through."