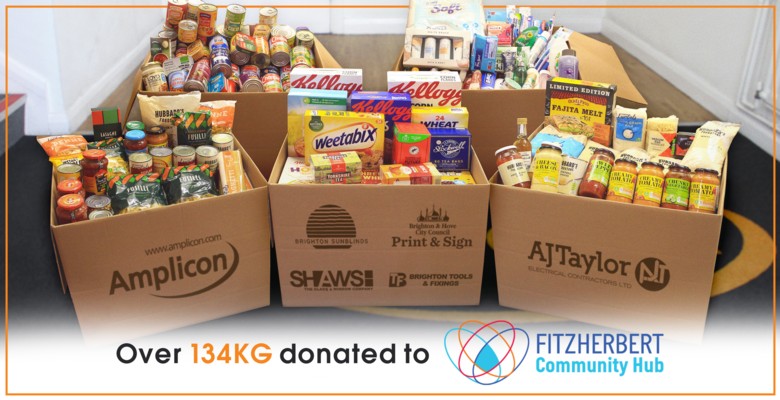 11th April 2023
Amplicon and AJ Taylor team up to support local charity, Fitzherbert Community Hub
The Centenary Industrial Estate led by Amplicon and AJ Taylor, teamed up to collect food and essential items for local charity Fitzherbert Community Hub.
The Fitzherbert Community Hub is a small local charity in Kemptown, Brighton. They provide essential services to people affected by food poverty and social isolation. The charity provides a teaching kitchen, dining area and purpose-built food bank facilities.
The whole of the Industrial Estate were invited to take part in this charitable initiative. The response was overwhelming with Brighton & Hove City Council Design, Print and Sign Division, Shaws of Brighton, Brighton Tools & Fixing and Brighton Sunblinds all coming together to support the initiative.
Team Amplicon & AJ Taylor managed the collection process and in only 4 weeks the Centenary Industrial Estate business community had amassed a total of 134 KG of food and essential day to day items.
From pasta, rice and cereal to all kinds of toiletries such as toothbrushes, shampoo and toilet paper, everyone pooled their resources to reach this impressive total. This support means that the Fitzherbert Community Hub can improve their support to those that need help.
Going forward, Amplicon will continue to support this worthwhile charity and encourage the Centenary Industrial Estate business community to carry on with their donations so that the Fitzherbert community Hub can provide more help and advice during these challenging times.
Father Kieron O'Brien, East Brighton Parish Priest, commented: "A massive thank you to Amplicon, AJ Taylor and Centenary Industrial Estate from the East Brighton Parish. This week we received 134 KG worth of food and essential items delivered to us by the very kind Amplicon team.
Our foodbank opened as a response to the pandemic, we have lurched from that crisis to the cost-of-living crisis, and we simply cannot close down. We have one of the only non referral foodbanks in our community – anyone in need is welcome, those of any faith or none, and we rely on donations to stay open. We are very grateful for your support."
If you are looking to make a donation, please visit: Fitzherbert Community Hub