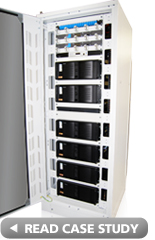 In our discussions with Amplicon engineering services customers we see clear evidence of the benefits in partnering with Amplicon for the integration of rackmount cabinets. There are savings to be achieved in both actual costs and time saved; these are both achievable and measurable.

With over 15 years of experience our engineering and configuration team will expertly manage the build and integration of your cabinet simplifying your supply chain to a single order, with a single point of technical & engineering support.

Our latest case study highlights how Amplicon worked with LAND Instruments International, a world leader in the design and application of infrared temperature measurement for industry designing and building a complex industrial monitoring system.

LAND Instruments required an asset monitoring system that would check and record images from a total of 44 thermal imaging cameras operating on a 24/7 basis.