News
Amplicon celebrates ICP DAS 25th Anniversary
30.08.18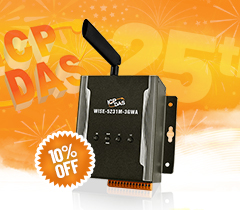 Since the introduction of their very first product in 1993, ICP DAS has established a reputation as a leading manufacturer in the measurement and control market; with solutions being adopted in a wide range of industries and sectors.

In celebration of this 25th anniversary, Amplicon, the UK premier distributor for ICP DAS products has an exciting offer for the month of September.

We are offering a special discount on the popular WISE 5231 controllers. For a limited time, customers that buy a WISE 5231 unit will receive a fantastic 10% off!
News Archive

Amplicon has introduced the new ICP DAS iP-8000-MTCP series to its portfolio of measurement and control products....

Amplicon is proud to support a charity that works so hard to make modern IT available to those whom do not have easy access to technology, greatly enhancing their ability to learn, work and progress....

Following their annual audit, Amplicon has successfully achieved the requirements of international standard ISO 9001:2015....

For a limited time, customers that purchase any InfiniiVision 3000T or 4000X will receive a FREE InfiniiVision DSOX1102G Oscilloscope....

Amplicon, a company firmly based in Engineering, has announced that it has been granted the status of Integration Partner by Virginia Panel Corporation (VPC)....

Amplicon provide the marketplace with a wide range of advanced computer-based measurement and automation systems....

For a limited time educational customers are able to qualify for a 25% discount on the full range of Keysight instruments and software....

If maximising confidence in testing whilst creating outstanding value is what you need then this limited time offer is the one for you!...

Dynamic signal analysers are the best choice for audio and vibration testing, especially where improved performance and functionality are required whilst maintaining an effective cost base....