News
Amplicon Easter competition winner announced!
18.04.19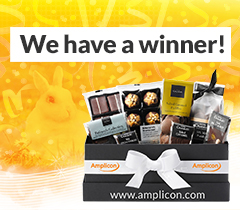 We are pleased to announce the winner of the exciting Amplicon Easter competition.

The winner of the delicious Hotel Chocolat hamper is Trevor Short.

Trevor Short, Supply Chain Manager at Optilan (UK) Ltd commented: "Amplicon being a valued supply partner to Optilan, it was great to win their Easter competition. A great way to start the Easter break. Many thanks!"

We would like to thank all who took part in the Amplicon Easter competition and we look forward to being of service to you in the near future.
News Archive

On March 29th, Amplicon hosted a fundraising day in support of the local charity Albion in the Community...

To get into the Easter spirit, Amplicon will be giving away a 'Hotel Chocolat' hamper full to the brim of deliciously indulgent treats...

Team at Amplicon donated any unwanted or unneeded items of clothing to Brighton based charity Martlets Hospice...

On Friday 19th October, Brighton based computer manufacturer, Amplicon, hosted a football fundraising event in aid of Breast Cancer Now;...

In celebration of this 25th anniversary, Amplicon, the UK premier distributor for ICP DAS products has an exciting offer for the month of September....

Amplicon has introduced the new ICP DAS iP-8000-MTCP series to its portfolio of measurement and control products....

Amplicon is proud to support a charity that works so hard to make modern IT available to those whom do not have easy access to technology, greatly enhancing their ability to learn, work and progress....

Following their annual audit, Amplicon has successfully achieved the requirements of international standard ISO 9001:2015....

For a limited time, customers that purchase any InfiniiVision 3000T or 4000X will receive a FREE InfiniiVision DSOX1102G Oscilloscope....