News
Maximum flexibility with the new ICP DAS Modbus TCP I/O expansion unit
21.03.18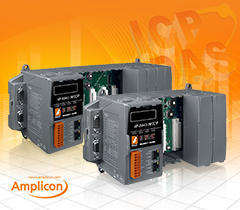 Amplicon has introduced the new ICP DAS iP-8000-MTCP series to its portfolio of measurement and control products.

These cost-effective Modbus TCP I/O expansion units provide users with maximum flexibility when designing a custom data acquisition system that requires the measurement and control of a large number of process signals over an Ethernet network.

The iP-8841-MTCP and iP-8441-MTCP have been specifically designed to withstand harsh and noisy environments; its wide input range (10 – 30VDC) and wide operating temperature (-25'C – 75'C) makes them perfectly suited for industrial monitoring and control applications such as building automation, process control and remote diagnosis and testing.

The iP-8000-MTCP series from ICP DAS is compatible with the popular ICP DAS I-8K range of modules, with each unit boasting two Ethernet ports for dual LAN monitoring.

With more than 50 I/O modules to choose from, including analogue and digital I/O, counter and frequency modules, the new series are the perfect choice when performing complex monitoring and control tasks.

Features and benefits of the ICP DAS iP-8000-MTCP series include easy installation and maintenance, auto configuration, LED indicators for fault detection, dual watchdog, programmable power-on and safe values.

Users will also receive great programmable freedom thanks to its DOS like OS (MiniOS7), giving engineers the ability to customise the firmware. An SDK is also included, which provides rich functions for Modbus communication, such as Modbus TCP master/slave, Modbus RTU master/salve and Modbus ASCII master/slave, etc.
News Archive

Amplicon, the premier UK distributor for Moxa products, introduces the Moxa NPort S9450I to its Data Communication product portfolio....

Amplicon, the UK premier distributor for Moxa products has introduced the NPort IA5000A, a series of extremely user-friendly device servers capable...

The Cisco IE 4010 is one of the most advanced Industrial Ethernet switches on the market, offering superior security, functionality, approvals and robustness....

Amplicon is proud to support a charity that works so hard to make modern IT available to those whom do not have easy access to technology, greatly enhancing their ability to learn, work and progress....

The Belden OCTOPUS family of industrial Ethernet switches has been specially designed for use in the field and ensures the highest industrial protection rating....

Amplicon, a specialist supplier of data communications and networking introduces the OWL-LTE family of Industrial Cellular routers from Belden....

Following their annual audit, Amplicon has successfully achieved the requirements of international standard ISO 9001:2015....

Amplicon introduces the most secure cellular gateway/routers, the OnCell G3150A-LTE and the OnCell G3470A-LTE from market leading supplier Moxa....