News
High flexibility and maximum integration with new 3-in-1 device server
13.11.18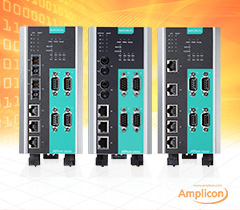 Amplicon, the premier UK distributor for Moxa products, introduces the Moxa NPort S9450I to its Data Communication product portfolio.

The Moxa NPort S9450I is a unique networking device that combines full device server with fieldbus gateway functionality, and a built-in managed Ethernet switch. This powerful 3-in-1 solution offers high flexibility and maximum integration to end users operating in process control and automation, helping to optimise and simplify the network system.

The new unit has been designed specifically for critical applications running in harsh environments that require extended redundancy, surge protection, robustness and wide operating temperature range, making them ideal for manufacturing, automation, process control and power substations.
News Archive

Amplicon, the UK premier distributor for Moxa products has introduced the NPort IA5000A, a series of extremely user-friendly device servers capable...

The Cisco IE 4010 is one of the most advanced Industrial Ethernet switches on the market, offering superior security, functionality, approvals and robustness....

Amplicon is proud to support a charity that works so hard to make modern IT available to those whom do not have easy access to technology, greatly enhancing their ability to learn, work and progress....

The Belden OCTOPUS family of industrial Ethernet switches has been specially designed for use in the field and ensures the highest industrial protection rating....

Amplicon, a specialist supplier of data communications and networking introduces the OWL-LTE family of Industrial Cellular routers from Belden....

Following their annual audit, Amplicon has successfully achieved the requirements of international standard ISO 9001:2015....

Amplicon introduces the most secure cellular gateway/routers, the OnCell G3150A-LTE and the OnCell G3470A-LTE from market leading supplier Moxa....

All new "Firewall Learning Mode" will suggest and make changes based on previously detected network patterns. In addition, the EagleONE offers further access control through advanced data packet analysis....

Amplicon is pleased to announce the introduction of the Cisco highly secure and reliable Industrial Wireless and Cellular routers to its extensive range of Data Communications products....