Wireless in-vehicle CCTV and fleet monitoring systems
The client is a leading manufacturer of in-vehicle driver monitoring systems. Their solution aims to reduce fuel consumption, improve safety and allow for the preventative maintenance of large fleets of commercial vehicles.
The requirement
The client required a solution which would allow for locally stored vehicle bus data and IP CCTV data from a vehicle management system to be automatically uploaded to a server when the vehicles are stationed at a depot. Once the data is stored on a server it can be studied via software for performance monitoring and trend analysis purposes.
The solution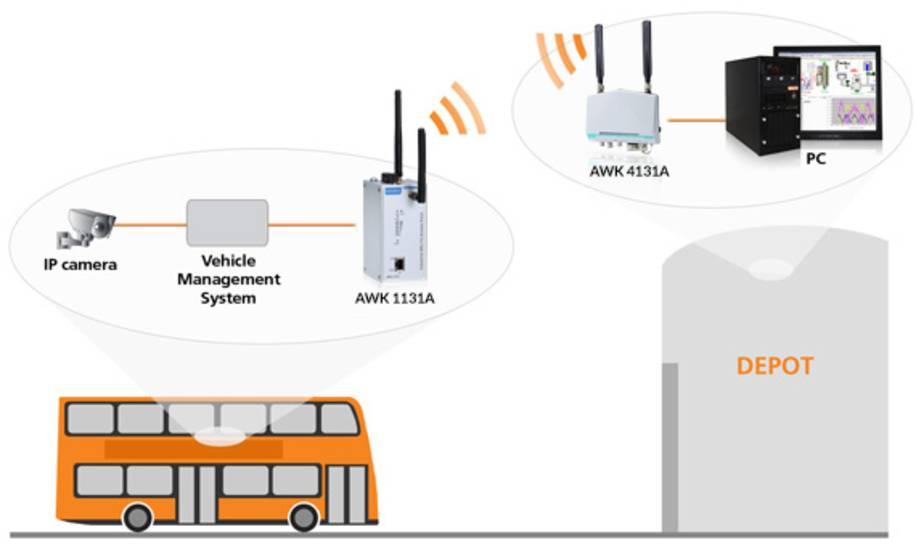 Wireless technology was identified as the best option as it would greatly reduce the time it takes to manually download data via a wired based communication solution. The hardware required would facilitate the wireless communication link from on-board a number of vehicles to the main depot. The on-board wireless device needed to be resilient to shock and vibration, easily mounted in a small footprint and be approved to the e-Mark standard which certifies the use of the equipment for in-vehicle applications. The depot wireless device required to be suitable for operation outdoors and had to be pole mountable.
The Amplicon engineering team worked with the client to design a complete solution using IEEE 802.11g Wi-Fi technology. The design included an AWK-4131A IP68 rated Wi-Fi access point at the depot, this was able to withstand the demands of being located in an outdoor environment, was pole mountable and could be powered via Power Over Ethernet (PoE) to remove power availability issue outside. Each vehicle housed an AWK-1131A Wi-Fi client adaptor which would automatically associate with the depot access point within a 50m range. The client adaptor was selected for its compact and rugged design as well as being pre-approved to the e-Mark standard.
Why Amplicon?
Amplicon was selected for this project as they clearly demonstrated a high level of technical knowledge and they could demonstrate many years of experience with wireless networks. Liaising with our technical sales and applications engineers (free pre and post-sales support), ensured that the solution specified was highly competent and cost-effective.