Thameslink station information and surveillance systems
The system integrator, Atkins, is a world-leading engineering and design consultancy operating in various market sectors including Transport and Rail systems.
The requirement & Solution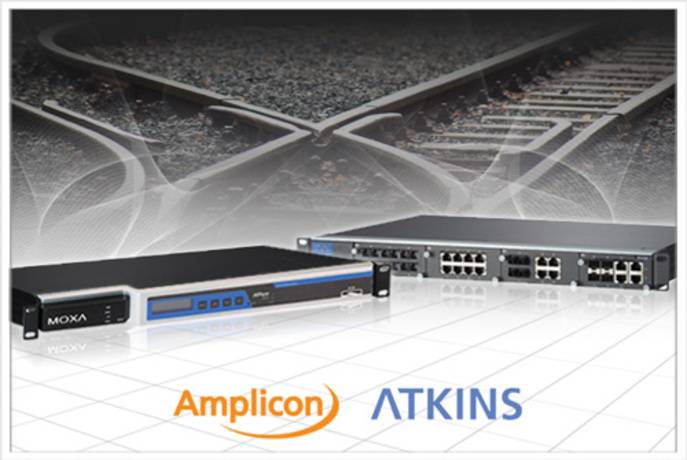 Atkins were looking for a supplier to assist with the supply of a new LAN infrastructure for the Thameslink contract. This project is covering 3 London stations, Blackfriars, Farringdon & City Thameslink. The requirement was to enable Station Information and Surveillance Systems (SISS) such as station management system, PA system, CCTV, VoIP telephones and customer Information systems into one managed system over a Gigabit redundant fibre ring.
The hardware required was to be of an industrial nature suitable for the Rail environment, with long MTBF's and most importantly a road mapped product that would enable a minimum of 5 years support.
SNMP reporting was needed to be able to manage all the devices on the network and to provide the engineers with an easy and fast way to find any failure's promptly.
Amplicon's team of application engineers assisted with the planning of the new LAN infrastructure and recommended hardware to meet Atkins requirement. It was clear that a mixture of Layer 3 and Layer 2 Industrial switches would be needed, distributed around the station. These would be placed in a redundant ring using V-LANs to segregate the traffic. To connect to specific serial controlled systems such as the help point system and the modem to the PABX a serial to Ethernet device server was recommended.
To meet the Atkins stringent Rail requirements the following products were used:
PowerTrans series:
The PowerTrans PT-7828 is a high-performance Layer 3 Ethernet switch that supports IP routing protocols, including static routing and RIP V1/V2, which facilitate the deployment of applications across networks. The PT-7828 is also designed to meet the strict demands of power substation automation systems (IEC 61850-3, IEEE 1613), traffic control systems (NEMA TS2), and railway applications (EN50121-4).
The Moxa NPort 6600 series (6610-8):
The NPort 6600 series are a range of 8, 16 and 32 port serial to Ethernet converters that can operate as fully-fledged terminal servers. They have many advanced features including SSL security, "any baud rate" capability and port buffering that stores serial data if the Ethernet connection is lost. A range of network expansion modules provides GPRS, PSTN and fibre-optic connectivity if alternate LAN / WAN connectivity solutions are required. The units are available as 48Vdc or mains powered.
Results
Atkins was very pleased with both the Amplicon products, service and high level of support offered throughout the planning and implementation stages of the project.
Amplicon has provided ongoing assistance during the project including arranging training with MOXA. Their close relationship with MOXA allowed any technical issues to be quickly resolved.
Phillip Parker, Engineering Manager - Atkins
Why Amplicon?
Amplicon are the main UK distributor for Moxa and have built a well-respected reputation in the design, support and supply of approved products into the Rail Sector.
Amplicon worked in close partnership with the Atkins engineering team helping to provide them with a complete solution. One of the key factors in the choosing of Amplicon was the wide-ranging experience Amplicon has gained in Rail and Transport projects; Atkins also considered the stability of Amplicon as a supplier commercially and technically to be a key point in this commercially challenging and competitive market.