Sea freight food monitoring
Amplicon was approached by a systems integrator looking for a temperature monitoring system to watch cargo hold climates during long-distance shipment of perishable goods. This was a requirement from the receiving port to accept (or reject) the goods.
Multi-channel data logging is nothing new to Amplicon which were able to offer all of the electronics from the sensors back to the computers. There was an additional twist to the requirement in that a dual recording system was specified to provide a backup for the information and improve data resilience.
The requirement
We were given an initial specification to monitor and record 72 temperatures on each vessel in the fleet. They had 8 cargo holds in all requiring 9 PT100 sensors in each, this quantity gave a good cross-section of each hold and helped to protect against sensor failure.
These sensors were run back to a central cabinet where we were tasked with reliably storing the readings onto 2 PC's, one for onboard monitoring and display the other as a secure backup.
The solution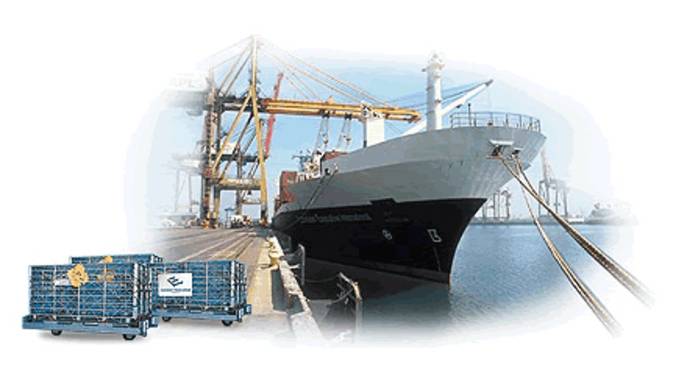 Given that a dual system was needed we decided to use networkable Industrial Ethernet-based distributed I/O modules which the PT100 sensors connected to. The Acromag 900EN series were selected for their robustness and ease of use. They also had the additional benefit of being able to report sensor failure independently.
With self-healing Industrial Ethernet ring technology, a number of Moxa ED6008 managed 8 port switches provided the reliable means for the I/O modules to report back to two PCs using a simple RJ45 connection. This series of industrial switches are DNV approved for marine use. The Digi One IAP protocol converter was situated just before the PCs to allow the software called DAQ factory to recognise the Modbus TCP information.
Of the two PCs, the first was a 12.1" Touchscreen Panel PC, the Senses 3125 incorporating DAQ factory SCADA software was used for onboard monitoring to display and record the process. The second PC was kept locked in the cabinet as a secure backup.
The system was easy to install with simple RJ45 connections to DIN rail and panel mounted equipment.
Due to the flexibility of using Ethernet and modular distributed I/O, the system had the potential to be expanded to a limitless amount of sensor inputs making it suitable for the largest vessels. There was also the ability to add other modules such as further analogue or digital models to easily expand the system to control fans, alarms, emergency coolers, doors and so on.
Why Amplicon?
Amplicon was the supplier of choice as we were able to offer 40 years experience with industrial electronic systems encompassing data acquisition, industrial networking and computing solutions. By talking to one of our applications engineers, the right equipment was selected on time and within budget.