Real time monitoring and control system to increase efficiency of automated production processes in factory floor
Our client is a UK based food manufacturer specialising in canned foods and soft drinks; they also supply large volumes of own branded goods via some of the top supermarkets in the UK.
The requirement
The client needed a system to monitor and control production processes on the factory floor in real-time. One of the major requirements was for a system that would report the exact number of canned products manufactured in a given time, this would allow for the more efficient management of resources and raw materials.
In addition, due to the vast amount of heat generated by their production automation machines on the factory floor, they also required a system that would monitor and control the temperature on the entire floor to ensure the production machines were not overheating and increasing the production downtime and maintenance cost. This system also provided an optimal temperature for the working environment for the production staff.
The solution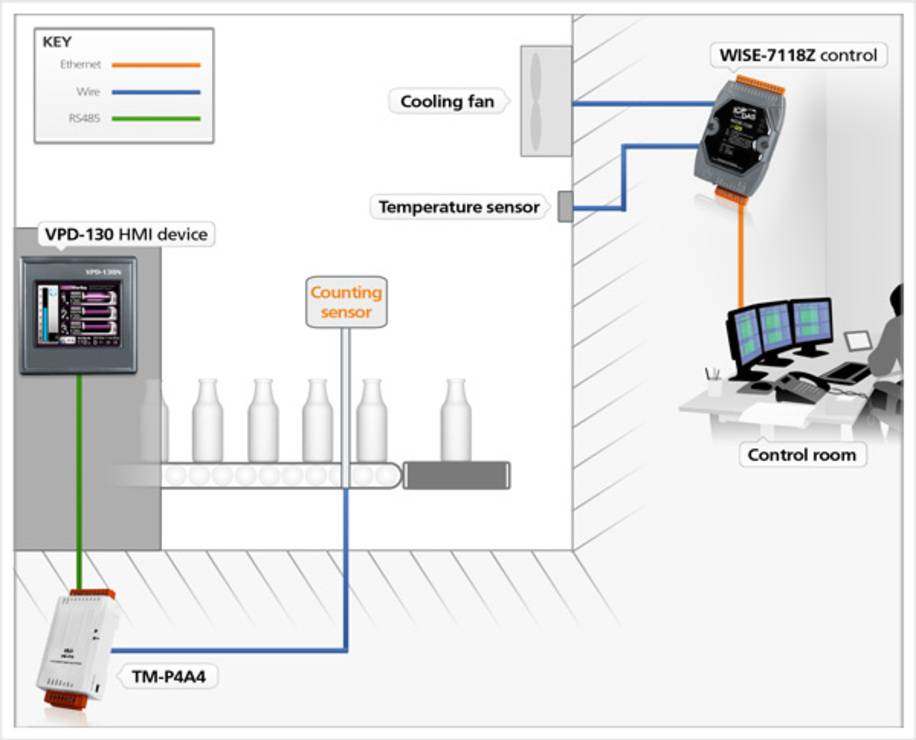 Following the evaluation of the customer specification, the Amplicon measurement and control specialists recommended two independent process automation systems. One system was used to count and display, in real-time, the exact number of canned products manufactured and the other to monitor and control the temperature on the factory floor to ensure smoother operation of the production automation machines.
The VPD-130 industrial touch HMI device with the tM-P4A4 module was used to count and display in real-time the accurate amount of canned product manufactured. The VPD-130 comes with built-in functionality to monitor and display data in real-time.
The WISE-7118Z control unit was deployed to monitor and control 6 thermocouple sensors positioned around the factory floor. With the WISE-7118Z 6 digital outputs and IF-THEN-ELSE control logic features, six cooling fans can be switched on/off to cool the entire factory floor when the temperature exceeds the specified level. The functionality offered by the WISE-7118Z was a perfect fit for the client requirements
Why Amplicon?
The measurement and control specialists at Amplicon have a broad experience in supplying monitoring and control solutions to a variety of companies in the process control industry.
We understand the complex system requirements in the factory automation market and provide innovative solutions that will improve your productivity and profitability.