Keeping the Railway Network On Track and On Time
Our client is a blue chip technology services company providing a wide range of solutions and services to the transport industry.
The requirement
Our client was tasked to replace the dated relay power control system across the national rail network. The system was unreliable and delays were occurring with both data and voice calls made over the same link initially run over copper cable.
In order to make the transition to a new system as smooth as possible, it was crucial that the process of turning off power was done quickly and all sections of track had to be monitored for any potential breaks in the power circuit. To ensure safety at all times, power to the track is remotely shutdown allowing engineers to carry out maintenance work on the track.
Amplicon were tasked to come up with a solution to help our customer replace the inefficient system and provide the required hardware to upgrade the network of the power control system to a more robust and reliable proposition.
The solution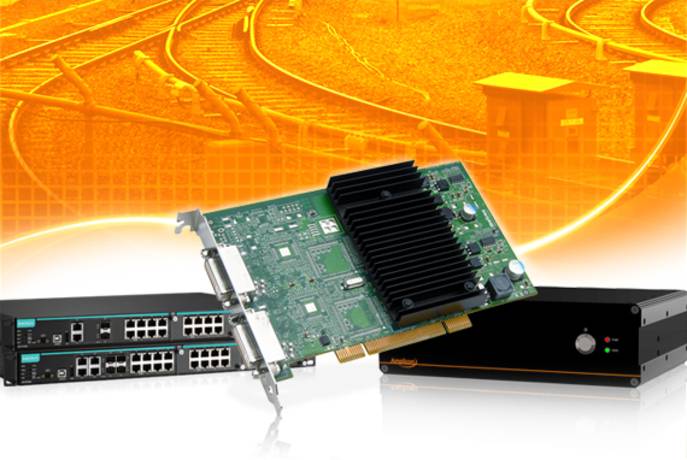 The Amplicon team studied the requirements for this application and came up with the most efficient solution for the customer.
Having evaluated what the customer wanted to achieve, the Data communications team proposed an upgrade of the network from copper cable to fibre. Single mode fibre was laid, linking substations and remote terminal units, which would guarantee a reliable connection.
Each substation has an Amplicon server and a number of workstations linked to our client's SCADA system. This allows for a map of the rail network to be displayed so engineers can clearly see sections that have been powered down and monitor alarms for circuit breaks. Dual head graphics are supplied by the Matrox P690 with the ability to extend to quad head video to allow for the setup of multiple viewing screens. LAN ports are teamed on all systems to improve reliability.
To ensure maximum runtime, Amplicon Rail approved Impact-R 4010 4U rackmount PCs were supplied and fitted in cabinets on site. Each system had a 56k modem to allow the old relay system to be used as a back up.
The network designed by Amplicon communicates over the Moxa IKS range of modular switches allowing for 2 fibre connections over single mode via an SFP. These allow for greater flexibility by supporting the installation of up to 4 Gigabit ports and 24 fast Ethernet ports.
Results
Our client was extremely pleased with the manner in which we handled the project, finishing to scheduled timing and budget. EMC results were documented and all standards were met alongside certification being provided.
Systems are now in place and are performing to expected levels.
Why Amplicon?
Amplicon successfully designed, specified and supplied all hardware for the network. The solution has been in place now for a number of years and the client continues to discuss upgrade paths and new opportunities. This is a clear sign of their trust and confidence to assist with such safety critical rail applications.