Automated Test Equipment (ATE) rig for testing variable speed drives after production
Our customer, a world leading Industrial Automation provider focuses on the design and manufacture of variable speed drives.
Their drives are used in a wide range of applications, wherever complex motor control is necessary, from high load cranes and lifts through to precise control of small electronic systems.
The requirement & Solution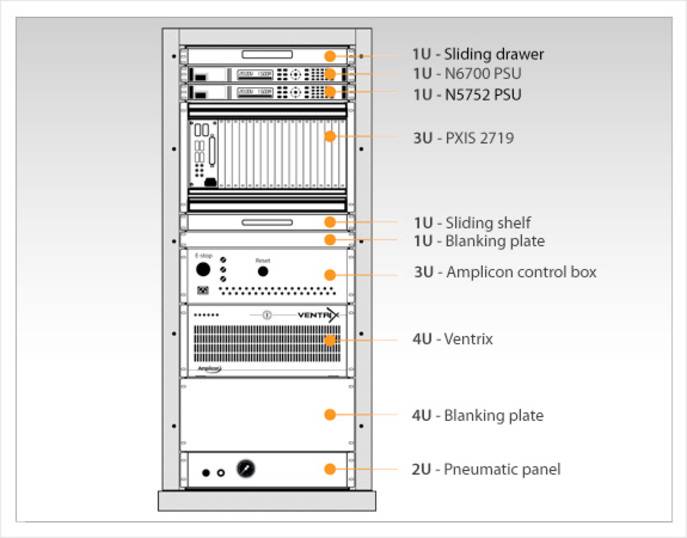 The client needed to design and manufacture an Automated Test System for the functional testing of drives coming off a production line. For many years, the client had put together Test Systems using hardware from different manufacturers. This resulted in extensive time required for training test engineers and also proved to be very inconvenient for supporting and repairing each individual system. Amplicon was asked to work closely with the clients Test Engineering and R&D departments to devise a system that was capable of testing many of the different drives produced by the client.
A complete hardware solution was required to monitor and generate hundreds of low and high frequency signals. Pickering multiplexers were used to allow fast switching and reduce the physical wiring configuration for all the signals. Amplicon suggested a 24U high Rack Cabinet from Schroff, an Amplicon Industrial PC for control and data storage and a PXI System for the main Acquisition circuitry. The PXI solution comprised of an ADLINK PXI Chassis containing Data Acquisition cards for low voltage outputs, and a PXI Oscilloscope and Waveform Generator from ZTEC to monitor and generate high frequency signals. An Agilent rackmount power supply was used for the High Voltage output signals.
A 4-port Industrial Ethernet switch was added to allow communications with the programmable power supply and the company network. All this hardware was served by the Amplicon Control Unit (ACU) which contained mains power distribution and static voltage rails, along with an emergency stop button and reset for isolating the power in an emergency.
A custom test fixture from MAC panel was provided to allow multiple connections to the Units Under Test (UUT) without causing damage to the ATE. This was supported on a lockable shelf capable of holding a Drive weighing up to 65Kg. Pneumatic air for the fixture placement was also accommodated with a pressure regulator and filter panel.
Results
The client was very impressed with our expertise, customer service and willingness to share ideas and keep them informed at every stage of customising and proposing their final solution. A Project Manager was chosen to oversee the Engineering team who would provide the complete solution.
The Sales Engineer held regular conference calls between engineering and the client to keep all parties informed and ensure deadlines were met and specifications correct at all times.
Why Amplicon?
Amplicon was selected for this project based on our ability to deliver a complete solution, our flexibility and willingness to incorporate customer specific design needs and our competitiveness. Amplicon also offered the client a commitment to using only Industrial hardware designed for 24/7 operation over wide temperature ranges.