Amplicon Expansion solution saves '9000 to recording studio Milk Solutions
Milk Studios is based in London and is home to producer engineer Tom Aitkenhead. The studio offers bands and instrumentalists an opportunity to record their music in state of the art surroundings, using industry-leading software by AVID, Pro Tools HD3.
The requirement & Solution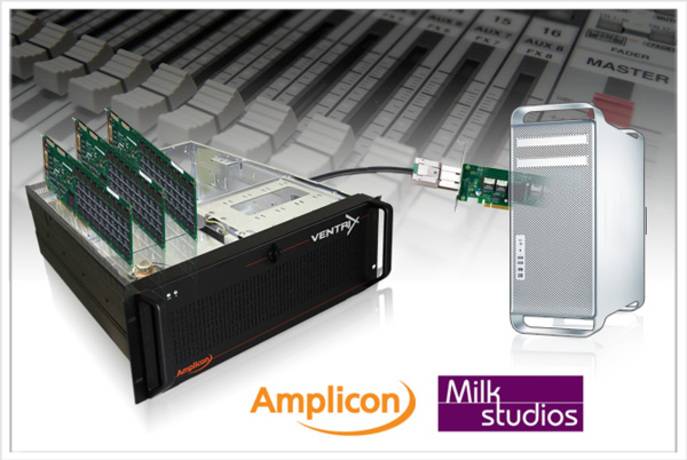 Milk studios' producer engineer approached Amplicon with a well-known problem; their Apple MAC G5 had given up the ghost. This machine was home to his Pro Tools HD3 cards and the bill to upgrade just the cards would be around 9000.
There is an android version of the software that removes the need for the cards. However, Milk Studios specialise in live recordings from real bands and musicians and the Pro Tools HD3 cards take the majority of the processing and do it on-board, freeing up the Apple MAC pro to handle the rest of the software suite. This is essential when dealing with large numbers of audio tracks and complex mixes.
Knowing that the G5 was never going to revive itself, Tom Aitkenhead treated himself to a new Apple MAC Pro to combat the problem of the G5's death however the new Apple MAC Pro does not support PCI-X plug-in cards. So, facing a '9000 invoice for new Pro Tools Cards and software and seeking an alternative that would allow him to continue to use his existing Pro Tools HD3 cards whilst still using his new Apple MAC Pro computer.
Tom Aitkenhead had heard about the Magma solution and found Amplicon via the web. The solution was simple. A Ventrix 4000 PCI-X PE6NE connecting to the Apple MAC Pro using a PCIe x8 host interface card.
Results
Amplicon had the Ventrix PE6NE in stock which meant that Milk studios did not have to wait to get the recording studio up and running again. Dave Haxby, Amplicon's senior sales engineer advised that he had sold this solution to many other AVID Pro Tools HD3 users and in every instance, the results had been successful.
The cost of the Magma unit was not insignificant, but it was a known working solution. Tom had the solution installed and working in his studio and is extremely pleased with the result. In a statement, Tom said 'Amplicon have saved me a fortune and the fact they were knowledgeable about my needs and understood my application gave me absolute faith in the solution they offered. I am extremely pleased with the results.'
Why Amplicon?
Amplicon had stock and this was a great advantage. However, the customer was very impressed with the level of knowledge presented by the Amplicon Sales team and the fact that Amplicon had a working knowledge and understanding of his application.