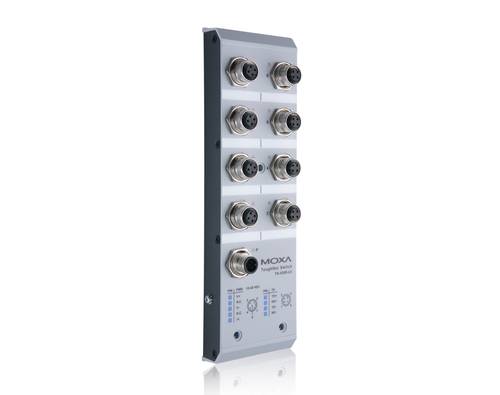 TN-5308-LV - 96095180
TN-5308-LV 8-port M12 unmanaged Ethernet switch, 0 to 60°C, 12/24/36/48 VDC (7 to 60 V) power supply
Key Features
8 port unmanaged Industrial Ethernet switches for transport
Traffic, Rail and in-vehicle approvals pending
12/24/36/48/72/96/110Vdc power options
-40 to +75°C operating temperature options (-T variants)
M12 connectors and IP40 metal housing
5 year warranty as standard
The Moxa TN-5308 series of Industrial Ethernet switches have been designed from the ground up for networking in transport applications.

Rail and traffic approvals as well as e-marking for in-vehicle use make them one of the best qualified unmanaged switches on the market today. M12 connectors make them ideal for coping with the harsh shock and vibration of in-vehicle environments.

If you require a managed switch solution, a lower cost device or technical help with network design, please do not hesitate to call our technical sales team.
Max Operating Temperature

60 °C

Min Operating Temperature

0 °C

Input Voltage

36 VDC
24 VDC
48 VDC
110 VDC
96 VDC
Code: 91095213
M12A-5P-IP68 Field-installable A-coded screw-in sensor connector, female

Price £13.40

Code: 91095212
M12D-4P-IP68 Field-installable D-coded screw-in sensor connector, male

Price £13.40

Code: 91095211
CBL-M12(FF5P)/OPEN-100 IP67 1-meter M12-to-5-pin power cable
CBL-M12(FF5P)/OPEN-100 IP67 1-meter M12-to-5-pin power cable with waterproof 5pin Acoded M12 connector

Price £17.23