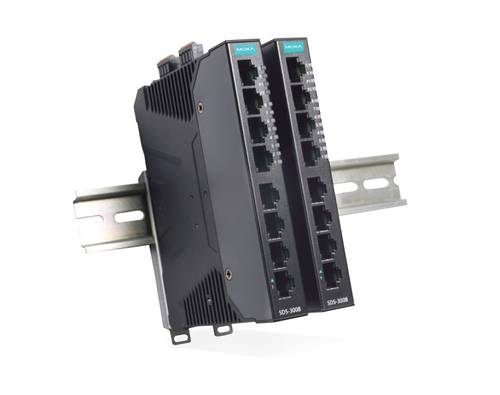 SDS-3008-T - 96175144
SDS-3008-T, Smart Industrial Switch with 8x Fast Ethernet ports, -40 to 75°C, dual 12-48VDC power inputs
Key Features
Compact and flexible housing design to fit into confined spaces
Web-based graphical user interface design for easy device configuration and management
EtherNet/IP, PROFINET, and Modbus/TCP industrial protocols supported for easy integration and monitoring in automation HMI/SCADA systems
Supports RSTP/STP for network redundancy
Security features based on IEC-62443
The Moxa SDS-3008 is an 8 Port 10/100BASE smart Ethernet switch, ideal product for IA engineers and automation machine builders to make their networks compatible with the vision of Industry 4.0.

The most frequently used automation protocols including EtherNet/IP, PROFINET, and Modbus/TCP are embedded in the Moxa SDS-3008 switch to provide enhanced operational performance and flexibility by making it controllable and visible from automation HMIs.

The Moxa SDS-3008 also supports a range of useful management functions, including IEEE 802.1Q VLAN, port mirroring, SNMP, and warning by relay.


Management

Layer 2 Managed

Type of Ports

Copper RJ45

Max Operating Temperature

75 °C

Min Operating Temperature

-40 °C

Input Voltage

24 VDC
48 VDC
Code: 91095113
MDR-60-24 - PSU - 60W/2.5A DIN-Rail 24V VDC power supply
MDR-60-24 - PSU - 60W/2.5A DIN-Rail 24V VDC power supply with universal 85 to 264 VAC input: -20 to 70C
Code: 91145126
Accessory - ABC-02-USB - USB based Auto Backup Configurator, Configuration
Accessory - ABC-02-USB - USB based Auto Backup Configurator, Configuration Backup/Restoration, firmware upgrade and log file storage tool
Code: 96095073
MDR-40-24 - PSU - 40W DIN-rail 24VDC power supply, -20 to 70C
Code: 96095093
Accessory - RK-4U - Rackmounting Kit
Code: 91035266
DR-75-24 DIN rail mount PSU 100 to 240Vac input 24Vdc @ 3.2A output
Code: 91035265
DR-4524 DIN rail mount PSU 85 to 264Vac or 120 to 370Vdc input 24Vdc @ 2A output