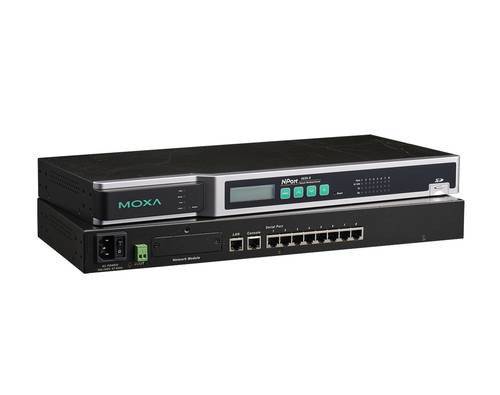 NPort 6650-8 - 96065156
NPort 6650-8 8 port secure RS232/422/485 device server with serial data buffer 100-240Vac power (IEC connector) with power cord
Key Features
Selectable RS232, RS422 & RS485 to Ethernet device / console server
Serial data buffering / logging function, prevents data loss
High security operation using SSL encryption in all modes
Dial in / out capability using PPP / SLIP + routing functions
PPPoE support for direct connection to ADSL modems
Support for 'any' baud rate to 921.6kbps, even non-standard settings
Dynamic DNS capability
Rugged metal enclosure, rackmount or free-standing
The Moxa NPort 6600 series are a range of 8, 16 and 32 port serial to Ethernet converters that can operate as fully-fledged terminal servers. They have many advanced features including SSL security, "any baud rate" capability and port buffering that stores serial data if the Ethernet connection is lost.

A range of network expansion modules provide GPRS, PSTN and fibre-optic connectivity if alternate LAN / WAN connectivity solutions are required.

The units are available as 48Vdc or mains powered.
Type of Serial Ports

RS-232
RS-422
RS-485

Type of Ethernet Ports

Copper RJ45

Max Operating Temperature

55 °C

Min Operating Temperature

0 °C
Code: 96095089
NM-TX02 Ethernet module with 2 x 10/100BaseTX port with RJ45 connector

Price £59.18

Code: 91065196
NM-FX-02-M-SC Dual SC multimode Ethernet port module
NM-FX-02-M-SC Dual SC multimode Ethernet port module for use with Nport 6000 series

Price £191.31

Code: 91065194
NM-FX-01-M-SC Single SC multimode Ethernet port module
NM-FX-01-M-SC Single SC multimode Ethernet port module for use with Nport 6000 series

Price £90.72

Code: 91065193
NM-FX-01-S-SC Single SC singlemode Ethernet port module
NM-FX-01-S-SC Single SC singlemode Ethernet port module for use with Nport 6000 series

Price £112.43

Code: 91065192
NM-TX01 One 100BaseTx RJ45 Ethernet module for NPort 6000 series

Price £29.58

Code: 91047579
CBL-RJ45F25-150 150cm cable, 8-pin RJ45 to DB25 female
CBL-RJ45F25-150 150cm cable, 8-pin RJ45 to DB25 female used with Moxa serial products

Price £3.94

Code: 91047578
CBL-RJ45M25-150 150cm cable, 8-pin RJ45 to DB25 male
CBL-RJ45M25-150 150cm cable, 8-pin RJ45 to DB25 male used with Moxa serial products

Price £3.94

Code: 91047577
CBL-RJ45F9-150 150cm cable, 8-pin RJ45 to DB9 female
CBL-RJ45F9-150 150cm cable, 8-pin RJ45 to DB9 female used with Moxa serial products

Price £7.66

Code: 91047576
CBL-RJ45M9-150 150cm cable, 8-pin RJ45 to DB9 male
CBL-RJ45M9-150 150cm cable, 8-pin RJ45 to DB9 male used with Moxa serial products

Price £7.66