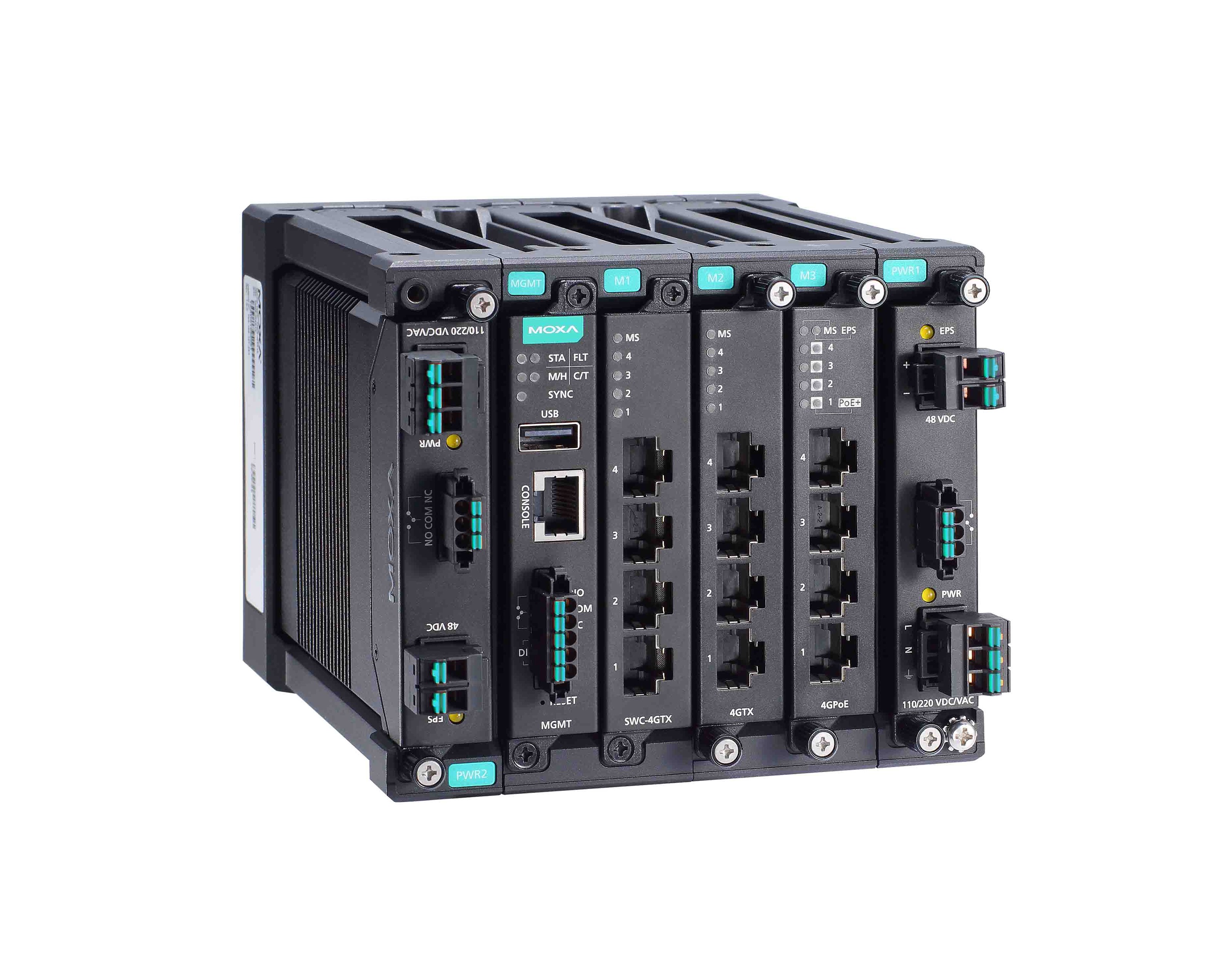 Moxa MDS-G4012 - 96205047
12 port modular layer 2 switch, 4x fixed GE RJ45 ports, 2 slots for 4-port GE/FE modules, -10 to 60°C
Key Features
Hot-swappable modules
Up to 12, 20 or 28 FE/GE ports
Multiple interface type 4-port modules available
Easy replacement of defect ports for maximum uptime
Ultra-compact size for easy installation
Modules available for both Fast and Gigabit Ethernet including PoE/PoE+ option
The Moxa MDS-G4000 modular switches support up to 28 Gigabit ports, including 4 embedded ports, up to 6 interface module expansion slots, and 2 power module slots to ensure sufficient flexibility for a variety of applications.
The multiple Ethernet modules (RJ45, SFP, and PoE+) and power units (24/48 VDC, 110/220 VAC/VDC) provide even greater flexibility as well as suitability for different operating conditions. Support for dual power modules provides redundancy for high reliability and availability while LV and HV power module options offer additional flexibility to accommodate the power requirements of different applications.
In addition, the Moxa MDS-G4000 Series features an HTML5–based, user-friendly web interface providing a responsive, smooth user experience across different platforms and browsers.
Management

Layer 2 Managed

Type of Ports

Copper RJ45
Copper RJ45(POE)
SFP

Max Operating Temperature

60 °C

Min Operating Temperature

-10 °C

Input Voltage

24 VDC
48 VDC
110 to 220 VAC
110 to 220 VDC
Code: 91205064
MDS-G4000 series Fast Ethernet module with 4 10/100BaseT(X) PoE+ ports
MDS-G4000 series Fast Ethernet module with 4 10/100BaseT(X) PoE+ ports LM7000H4PoE

Price £499.11

Code: 91205063
MDS-G4000 series Fast Ethernet module with 4 10/100BaseT(X) ports
MDS-G4000 series Fast Ethernet module with 4 10/100BaseT(X) ports LM7000H4TX

Price £301.17

Code: 91205062
MDS-G4000 series Gigabit Ethernet module with 4 100/1000BaseSFP slots
MDS-G4000 series Gigabit Ethernet module with 4 100/1000BaseSFP slots LM7000H4GSFP

Price £504.30

Code: 91205061
MDS-G4000 series Gigabit Ethernet module with 4 10/100/1000BaseT(X) PoE+ ports
MDS-G4000 series Gigabit Ethernet module with 4 10/100/1000BaseT(X) PoE+ ports LM7000H4GPoE

Price £734.17

Code: 91205060
MDS-G4000 series Gigabit Ethernet module with 4 10/100/1000BaseT(X) ports
MDS-G4000 series Gigabit Ethernet module with 4 10/100/1000BaseT(X) ports LM7000H4GTX

Price £504.30