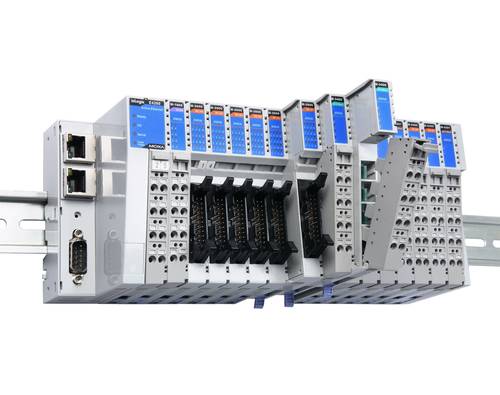 Moxa ioLogik E4200 series
Moxa Modular Active Ethernet I/O server
Key Features
Active Ethernet I/O with Dual LAN ports
Supports up to 16 modules for up to 256 digital channels
Analog and digital I/O modules
Thermocouple and RTD temperature modules
Unicode Active messaging with real-time clock
SNMP trap, SMS, email
DLL library for programming with Visual Basic, VB.Net, C++ and C#
The Moxa ioLogik E4200 is suitable for remote monitoring of signals from process sensors or digital signals, and to control valves, pumps, relays etc. It uses Ethernet to communicate with a remote computer, but also has on-board control using "Local logic".
Select up to 16 modules for analog and digital I/O channels. Isolators are available for high voltage inputs.
Support for Modbus TCP/IP makes ioLogik E4200 compatible with most SCADA software such as Intellution iFix, Wonderware and LabVIEW. Please contact sales for assistance in specifying a system.
Datasheet

2.74 MB

Datasheet

334.11 KB