Product unavailable. Due to extended lead times, we recommend alternative products. Please see below.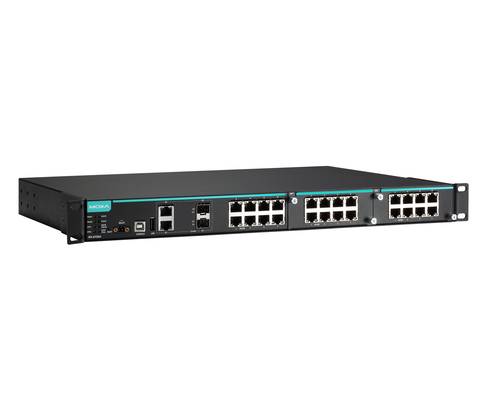 Not in stock
Moxa IKS-6726A-2GTXSFP-HV-T - 96155230
IKS-6726A-2GTXSFP-HV-T Modular managed Ethernet, 8 10/100BaseT(X), and 2 fast Ethernet module slots, 1 isolated PS (85 to 264 VAC), 40 to 75C
Key Features
Turbo Ring and Turbo Chain redundancy for fault-tolerant networks
Isolated redundant power inputs with 110/220Vac power supply
-40 to +75°C operating temperature range
Wide range of management features including IEEE1588, QoS and VLAN
IEEE 1588v2 precision time protocol support
STP/RSTP/MSTP and Turbo Ring/Chain redundancy support
5 Year warranty
Recommended alternatives: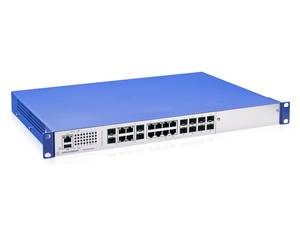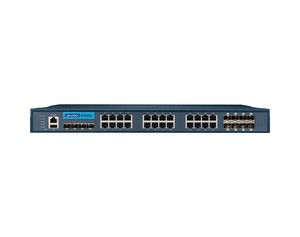 The Moxa IKS-6726A and Moxs IKS-6728A series of industrial rack-mount Ethernet switches are designed to meet the rigorous demands of mission critical applications for industry and business.

The modular design of the Moxa IKS-6726A and Moxa IKS-6728A makes network planning easy, they allow for greater flexibility by letting you install up to 4 Gigabit ports and 24 fast Ethernet ports.

The switches can operate in extreme temperatures ranging from -40 to +75°C and are equipped with up to two AC power inputs for redundant powering in a rack type enclosure.
Please note that Moxa current lead times are a minimum of 20 to 24 weeks. Contact our team for best alternatives with shorter lead times - 01273 570 220.
Management

Layer 2 Managed

Type of Ports

Copper RJ45
SFP

Max Operating Temperature

75 °C

Min Operating Temperature

-40 °C

Input Voltage

110 VAC
220 VAC
Code: 91155252
IM-6700A-4MST2TX Fast Ethernet module with 4 multi-mode 100BaseFX ports
IM-6700A-4MST2TX Fast Ethernet module with 4 multi-mode 100BaseFX ports and 2 10/100BaseT(X) ports

Price £382.05

Code: 91155251
IM-6700A-4SSC2TX Fast Ethernet module with 4 single-mode 100BaseFX ports
IM-6700A-4SSC2TX Fast Ethernet module with 4 single-mode 100BaseFX ports with SC connectors and 2 10/100BaseT(X) ports

Price £695.41

Code: 91155250
IM-6700A-4MSC2TX Fast Ethernet module with 4 multi-mode 100BaseFX ports
IM-6700A-4MSC2TX Fast Ethernet module with 4 multi-mode 100BaseFX ports with SC connectors and 2 10/100BaseT(X) ports

Price £382.05

Code: 91155249
IM-6700A-2MST4TX Fast Ethernet module with 2 multi-mode 100BaseFX ports
IM-6700A-2MST4TX Fast Ethernet module with 2 multi-mode 100BaseFX ports with ST connectors and 4 10/00BaseT(X) ports

Price £271.75

Code: 91155248
IM-6700A-2SSC4TX Fast Ethernet module with 2 single-mode 100BaseFX ports
IM-6700A-2SSC4TX Fast Ethernet module with 2 single-mode 100BaseFX ports with SC connectors and 4 10/100BaseT(X) ports

Price £433.99

Code: 91155247
IM-6700A-2MSC4TX Fast Ethernet module with 2 multi-mode 100BaseFX ports
IM-6700A-2MSC4TX Fast Ethernet module with 2 multi-mode 100BaseFX ports with ST connectors and 4 10/100BaseT(X)

Price £271.75

Code: 91155246
IM-6700A-6MST Fast Ethernet module with 6 multi-mode 100BaseFX ports
IM-6700A-6MST Fast Ethernet module with 6 multi-mode 100BaseFX ports with ST connectors

Price £486.05

Code: 91155245
IM-6700A-6MSC Fast Ethernet module with 6 multi-mode 100BaseFX ports
IM-6700A-6MSC Fast Ethernet module with 6 multi-mode 100BaseFX ports with SC connectors

Price £486.05

Code: 91155244
IM-6700A-6SSC Fast Ethernet module with 6 single-mode 100BaseFX ports
IM-6700A-6SSC Fast Ethernet module with 6 single-mode 100BaseFX ports with SC connectors

Price £969.33

Code: 91155243
IM-6700A-8SFP Fast Ethernet module with 8 100BaseSFP slots

Price £324.14

Code: 91155242
IM-6700A-8TX Fast Ethernet module with 8 10/100T(X) ports

Price £144.22