Product unavailable. Due to extended lead times, we recommend alternative products. Please see below.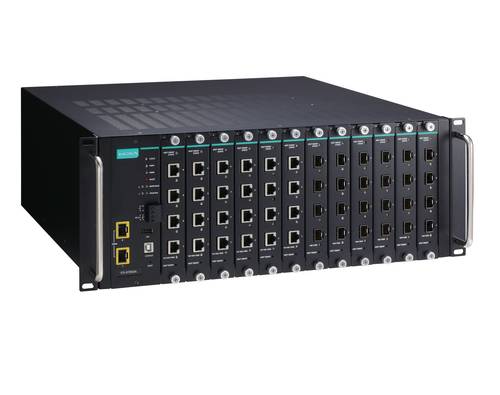 Not in stock
Moxa ICS-G7850A-2XG-HV-HV - 96155200
ICS-G7850A-2XG-HV-HV Layer 3 Gb managed Ethernet, 2 10GbE SFP, 12 slots, 2 Iso PS (85 to 264VAC), 48G 2 10GbE ports, 0 to 60C
Key Features
Full layer 2 switching and layer 3 routing capabilities (ICS-G78xxA models)
Up to 52 optical fibre connections (SFP slots)
Fan-less, 0 to 60°C operating temperature
Modular design for maximum flexibility and scalability
Hot swappable interface and power modules for continuous operation
Turbo ring, Turbo chain and RSPT/STP network redundancy
Best alternative: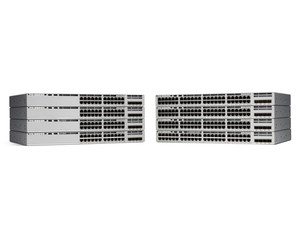 The Moxa ICS-G7748A, Moxa G7750A and Moxa G7752A are layer 2 "core" switches, meaning they are designed to handle the central backbone of large distributed automation networks, their modular design allows them to populate up to 48 x Gb and up to 4 x 10Gb Ethernet ports; media types include copper via RJ-45 and many different fibre types via SFP interfaces.

The Moxa ICS-G7848A, Moxa G7850A and Moxa G7852A are the layer 3 equivalents, which introduce the routing intelligence required to facilitate internetwork communication.

Advanced features provide a truly rugged, highly reliable product; fan-less operation, Dual isolated power supplies; both hot-swappable and load-sharing, hot-swappable Ethernet modules and a 0-60°C operating temperature range.
Please note that Moxa current lead times are a minimum of 20 to 24 weeks. Contact our team for best alternatives with shorter lead times - 01273 570 220.
Management

Layer 3 Managed

Type of Ports

Copper RJ45
SFP

Max Operating Temperature

60 °C

Min Operating Temperature

0 °C

Input Voltage

110 VAC
220 VAC
Code: 96155204
PWR-G7000A-AC Plug-in PS, 110/220 VAC (85 to 264 VAC), 2A@230VAC,
PWR-G7000A-AC Plug-in PS, 110/220 VAC (85 to 264 VAC), 2A@230VAC, 4A115 VAC, 47 to 63 Hz, 0 to 60C

Price £1,702.22

Code: 96155203
IM-G7000A-4GSFP GbE interface module with
IM-G7000A-4GSFP GbE interface module with 4 10/100/1000BaseSFP slots, 0 to 60C

Price £621.39

Code: 96155202
IM-G7000A-4GTX GbE interface module with
IM-G7000A-4GTX GbE interface module with 4 10/100/1000BaseT(X) ports, 0 to 60C

Price £621.39