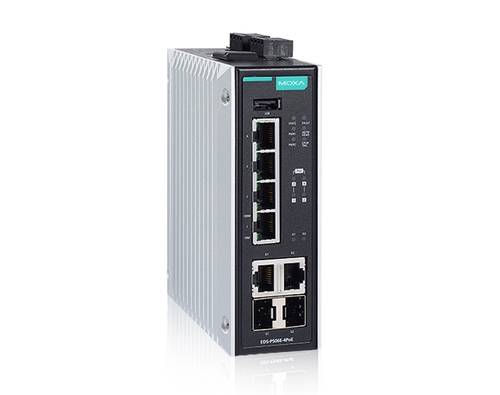 EDS-P506E-4PoE-2GTXSFP - 96185063
EDS-P506E-4PoE-2GTXSFP, Industrial 6 Port Managed Switch, 4xFE RJ45 PoE+, 2xGE Combo, 1xDI, redundant 12 to 57VDC TB, -10 to 60C
Key Features
Built-in 4 PoE+ ports compliant with IEEE 802.3af/at standards
Up to 60 W output per PoE+ port
4 kV LAN surge protection for extreme outdoor environments
PoE diagnostic for powered device mode analysis
2 Gigabit combo ports for high-bandwidth and long-distance communication
Operates at 180 watts full PoE+ loading at -40 to 75°C
Supports MXstudio for easy, visualized industrial network management
V-ON™ ensures millisecond-level multicast data and video network recovery
The Moxa EDS-P506E-4PoE series is a managed Power-over-Ethernet Plus (PoE+) switch with four 10/100Base Fast Ethernet 802.3at (PoE+) compliant ports, and two Gigabit combo Ethernet ports.

The Moxa EDS-P506E-4PoE series provides up to 30 watts of power per PoE+ port in standard mode and allows for a high power mode, providing an output of up to 60W (4-pair) power for heavy-duty PoE devices, such as weather-proof IP surveillance cameras with wipers/heaters, high-performance wireless access points, and rugged IP phones.

The Moxa EDS-P506E-4PoE series supports a variety of management functions including STP/RSTP, Turbo Ring, Turbo Chain, PoE power management, PoE device autochecking, PoE power scheduling, PoE diagnostic, IGMP, VLAN, QoS, RMON, bandwidth management, and port mirroring.
Management

Layer 2 Managed

Type of Ports

Copper RJ45(POE)
SFP

Max Operating Temperature

60 °C

Min Operating Temperature

-10 °C

Input Voltage

24 VDC
48 VDC
Code: 91165041
DR-75-48 - PSU - 75W/1.6A, 48 VDC with universal input

Price £82.65

Code: 91095113
MDR-60-24 - PSU - 60W/2.5A DIN-Rail 24V VDC power supply
MDR-60-24 - PSU - 60W/2.5A DIN-Rail 24V VDC power supply with universal 85 to 264 VAC input: -20 to 70C

Price £84.25

Code: 91145126
Accessory - ABC-02-USB - USB based Auto Backup Configurator, Configuration
Accessory - ABC-02-USB - USB based Auto Backup Configurator, Configuration Backup/Restoration, firmware upgrade and log file storage tool

Price £123.35

Code: 96095073
MDR-40-24 - PSU - 40W DIN-rail 24VDC power supply, -20 to 70C

Price £61.27

Code: 96095093
Accessory - RK-4U - Rackmounting Kit

Price £134.04

Code: 91145128
Accessory - WK-36-02 - Wall Mounting Kit

Price £21.70