Product unavailable. Due to extended lead times, we recommend alternative products. Please see below.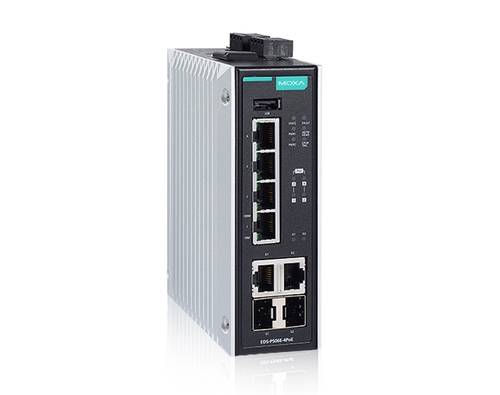 Not in stock
Moxa EDS-P506E-4PoE-2GTXSFP - 96185063
EDS-P506E-4PoE-2GTXSFP, Industrial 6 Port Managed Switch, 4xFE RJ45 PoE+, 2xGE Combo, 1xDI, redundant 12 to 57VDC TB, 10 to 60C
Key Features
Built-in 4 PoE+ ports compliant with IEEE 802.3af/at standards
Up to 60 W output per PoE+ port
4 kV LAN surge protection for extreme outdoor environments
PoE diagnostic for powered device mode analysis
2 Gigabit combo ports for high-bandwidth and long-distance communication
Operates at 180 watts full PoE+ loading at -40 to 75°C
Supports MXstudio for easy, visualized industrial network management
V-ON™ ensures millisecond-level multicast data and video network recovery
Recommended alternatives: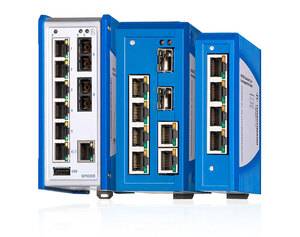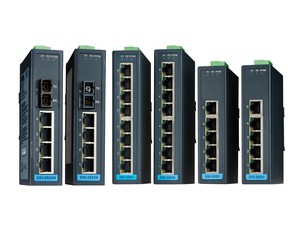 The Moxa EDS-P506E-4PoE series is a managed Power-over-Ethernet Plus (PoE+) switch with four 10/100Base Fast Ethernet 802.3at (PoE+) compliant ports, and two Gigabit combo Ethernet ports.

The Moxa EDS-P506E-4PoE series provides up to 30 watts of power per PoE+ port in standard mode and allows for a high power mode, providing an output of up to 60W (4-pair) power for heavy-duty PoE devices, such as weather-proof IP surveillance cameras with wipers/heaters, high-performance wireless access points, and rugged IP phones.

The Moxa EDS-P506E-4PoE series supports a variety of management functions including STP/RSTP, Turbo Ring, Turbo Chain, PoE power management, PoE device autochecking, PoE power scheduling, PoE diagnostic, IGMP, VLAN, QoS, RMON, bandwidth management, and port mirroring.
Please note that Moxa current lead times are a minimum of 20 to 24 weeks. Contact our team for best alternatives with shorter lead times - 01273 570 220.
Management

Layer 2 Managed

Type of Ports

Copper RJ45(POE)
SFP

Max Operating Temperature

60 °C

Min Operating Temperature

-10 °C

Input Voltage

24 VDC
48 VDC
Code: 91095113
MDR-60-24 - PSU - 60W/2.5A DIN-Rail 24V VDC power supply
MDR-60-24 - PSU - 60W/2.5A DIN-Rail 24V VDC power supply with universal 85 to 264 VAC input 20 to 70C

Price £86.57

Code: 91145126
Accessory - ABC-02-USB - USB based Auto Backup Configurator, Configuration
Accessory - ABC-02-USB - USB based Auto Backup Configurator, Configuration Backup/Restoration, firmware upgrade and log file storage tool

Price £127.00

Code: 96095073
MDR-40-24 - PSU - 40W DIN-rail 24VDC power supply, -20 to 70C

Price £63.04

Code: 96095093
Accessory - RK-4U - Rackmounting Kit

Price £139.21

Code: 91145128
Accessory - WK-36-02 - Wall Mounting Kit

Price £22.61