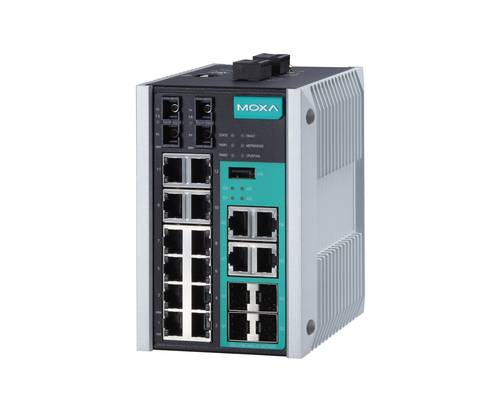 EDS-518E-SS-SC-4GTXSFP-T - 96195015
EDS-518E-SS-SC-4GTXSFP-T- Managed Gigabit Ethernet switch with 12xFE RJ45 ports, 4xGE combo ports, SingleMode, SC Connector, 40 to 75C
Key Features
4 Gigabit plus 14 fast Ethernet ports for copper and fiber
Ring redundancy, RSTP and STP for network redundancy
QoS, IGMP snooping/GMRP, VLAN, and SNMP for advanced management
Dual redundant 12 to 45 Vdc power inputs
IEE802.1X and HTTPS / SSL for enhanced network security
Relay, SNMP & Email outputs for fault conditions
Fiber status monitoring and warning
The Moxa EDS-518E managed Industrial Ethernet switches provides up to 4 Gigabit plus 14 fast Ethernet ports for copper and fiber, allowing redundant rings to be built with a fibre-optic or copper backbone.
It's management features include Fiber status monitoring and warning on MST/MSC/SSC/SFP fiber ports and low-cost ring redundancy capability. Other network management features include support for protocols like SNMP, VLAN, port mirroring, RMON etc. Extended temperature models are available throughout the range.
The Moxa EDS-518E advanced SCADA software monitoring capabilities when used with Ethernet/IP based networks. The main differentiating feature of the Moxa EDS-518E is its high port count in DIN-rail form factor.
Management

Layer 2 Managed

Type of Ports

SFP
Copper RJ45
Fiber SC Single Mode

Max Operating Temperature

75 °C

Type of Ports

SFP
Copper RJ45
Fiber SC Single Mode

Min Operating Temperature

-40 °C

Input Voltage

12 VDC
24 VDC
48 VDC