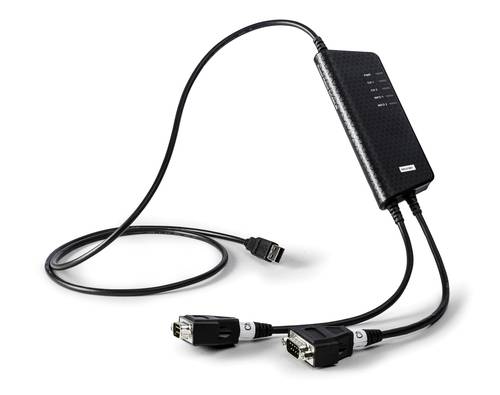 Kvaser Hybrid 2xCAN/LIN series
Kvaser Hybrid Dual channel USB to CAN/LIN interfaces
Key Features
Supports High Speed CAN
Supports CAN FD
Quick and easy plug-and-play installation
Supports CAN 2.0 A and CAN 2.0 B active
Galvanically isolated CAN channels
Fully compatible with J1939, CANopen, NMEA 2000 and DeviceNet
Our range of USB to CAN/LIN interfaces have now been joined by a "Hybrid" device, the Kvaser Hybrid 2xCAN/LIN. This comprehensive device has been designed to meet the requirements of R&D, service & test engineers that require access to newly developed or existing CAN or LIN networks from a PC.
The Kvaser Hybrid 2xCAN/LIN is a flexible, dual channel interface that allows each channel to be assigned independently as either CAN or LIN. This makes it an essential interface for every engineer involved in automotive communications.
Using a standard USB connector and two separate 9-pin D-SUB connectors, this interface will allow connection to a PC via two CAN buses, two LIN buses or one CAN and one LIN bus.
CAN Bitrate

50 Kbps to 1Mbps

Min Operating Temperature

-40 °C

Max Operating Temperature

85 °C